WHEN THERE'S A MEDICAL EMERGENCY IN YOUR LIFE, TIME MEANS EVERYTHING.
The next time you have an emergency situation, whether it's a small cut that needs a few stitches or a possible heart attack, you can feel confident that our highly skilled, ACLS certified staff and in-house emergency physicians will treat you effectively, efficiently, and quickly...24-hours a day, every day. When every minute counts, count on us.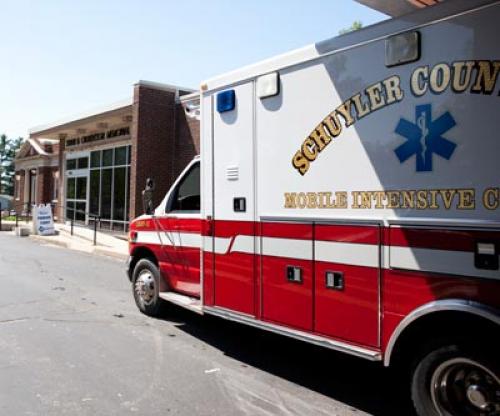 A New Standard of Care
In May, the Culbertson Emergency Department transitioned its medical staff leadership to NES Health. Founded in 1976, NES Health serves 29 clients across 18 states with access to more than 2,500 licensed providers in Illinois alone. NES focuses on transforming patient care by improving physician recruitment and skillsets, quality metrics, schedule fulfillment, and communication.
"We have grown as an organization and certainly the dynamics of Emergency Services have changed as well," said Culbertson Memorial Hospital CEO Gregg Snyder. "NES has the additional leadership depth, operational structure, and breadth of services that will meet our growing needs and the changes in delivery of care."
Among those services provided by NES will be recruiting a full-time medical director, who Snyder said will "work many shifts with us to lead the group of emergency medicine providers" in fostering a successful and accountable culture within the ED. Additionally, NES will establish quality metrics to which all ED staff will be held accountable and a more comprehensive orientation program for providers joining the organization.
Why Choose Culbertson?
If you are in an emergency situation, time is of the essence. At Culbertson Memorial Hospital, we realize how serious and scary this may be for our patients. Doctors and nurses work together to quickly diagnose you, before completing a plan best equipped for your needs as the patient.
Signs of a Medical Emergency:
Recognizing signs of a medical emergency can be tough, and you man not know if it is even an emergency. The following symptoms listed below may be a sign of an emergency.
Asthma-related emergencies
Broken bones and complicated fractures
Consuming a poisonous substance
Falls
Head, spine and other serious injuries
Heart attack
Pain in the abdominal area
Persistent vomiting
Profuse bleeding
Severe burn
Shortness of breath or difficulty breathing
Stroke
Sudden blurry vision
Suicidal feelings, as well as other mental distress symptoms
Tightness or a painful feeling in the chest
Traumatic injury
Combating Strokes, One Step at a Time
The Illinois Department of Public Health has designated Sarah D. Culbertson Memorial Hospital as an Emergent Stroke Ready Hospital (ESRH).
"As an ESRH, our patients are provided rapid medical access within the narrow 60-minute treatment window time," says Nancy Murray, Emergency Department (ED) Nurse Manager. "It is critical for stroke patients to receive medical attention immediately. Each second they have to wait for treatment denies their brain of much-needed blood and oxygen. Immediate treatment of strokes can minimize the long-term effects of a stroke and may even prevent death. Having this program allows us to provide timely treatment and prepares the patient for transfer to a primary stroke center, such as Memorial Medical Center."

Teleneurology Enables Culbertson ED to Provide Quick, Lifesaving Care
Time is crucial in the event of a stroke. Even after a patient is admitted to the Emergency Department, the simple act of transferring them to a larger healthcare facility can use valuable, lifesaving time. Fortunately, a brand-new partnership between Culbertson Memorial Hospital and HSHS will enable providers in Rushville to get patients the expert care they need in a timely manner.
Teleneurology is a process during which patients presenting stroke, stroke-like symptoms, or other neurological emergencies at Culbertson may be examined virtually by an HSHS neurologist. The service is made possible by a grant managed by HSHS. "Thanks to the grant from HSHS, Culbertson recently purchased a telemedicine robot. This will give immediate access to a neurologist to view and exam the patient virtually and collaborate with our onsite emergency department provider for imaging testing, medications, and other treatments," said Culbertson Chief Operating & Nursing Officer Michelle Epps. "If a transfer is still needed, we would have already started the medical care necessary to provide the best possible outcomes for our patients."
This service is beneficial especially to rural health providers that may not have a full-time neurologist on staff, Michelle said, expediting diagnosis and care by communicating virtually with an HSHS neurologist. "However, if ongoing care or treatment is needed by a neurologist, our Emergency Department providers and clinical teams will expedite a transfer to ensure the right care in the right place at the right time," she added.
Treating Heart Attack Patients Faster
Culbertson Memorial Hospital is now participating in the Prairie Cardiovascular "Stat Heart" program — a new cardiac program that identifies, treats, and transfers acute heart attack patients to a cardiac cath lab within minutes of arriving at the Emergency Room. The Prairie Stat Heart program puts in place a unique process that melds cooperation and collaboration between the community hospital emergency department, the EMS ground and air transport, Memorial Medical Center, St. John's Hospital and cardiologists of Prairie Cardiovascular.
Immediate Activation
Once an emergency room physician has identified an acute heart attack patient, the Stat Heart team is immediately activated. This is, in essence, a single call that activates the team at Culbertson, the helicopter/transport system and the specialists in Springfield simultaneously. This means that once the patient arrives in Springfield a team is standing by and immediately determines the best appropriate intervention for that patient.
The Stat Heart program has already served over 200 patients in central and southern Illinois who suffer the worse type of heart attacks – those likely to cause death or severe heart damage.
"Culbertson Memorial Hospital is fortunate to have two helicopters within 23 minutes flight time reach of the emergency room and a local emergency management crew a block away. This further cuts the length of time needed to transport the patient to the specialists in Springfield." — Nancy Murray, ED Nurse Supervisor