When there's a medical emergency in your life, time means everything.
The next time you have an emergency situation, whether it's a small cut that needs a few stitches or a possible heart attack, you can feel confident that our highly skilled, ACLS certified staff and in-house emergency physicians will treat you effectively, efficiently, and quickly...24-hours a day, every day. When every minute counts, count on us.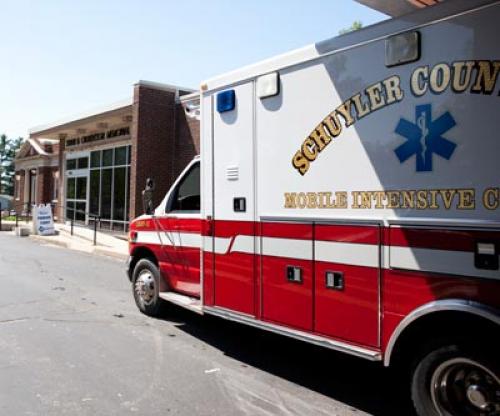 Why choose Culbertson?
If you are in an emergency situation, time is of the essence. At Culbertson Memorial Hospital, we realize how serious and scary this may be for our patients. Doctors and nurses work together to quickly diagnose you, before completing a plan best equipped for your needs as the patient.
Signs of a Medical Emergency:
Recognizing signs of a medical emergency can be tough, and you man not know if it is even an emergency. The following symptoms listed below may be a sign of an emergency.
Asthma-related emergencies
Broken bones and complicated fractures
Consuming a poisonous substance
Falls
Head, spine and other serious injuries
Heart attack
Pain in the abdominal area
Persistent vomiting
Profuse bleeding
Severe burn
Shortness of breath or difficulty breathing
Stroke
Sudden blurry vision
Suicidal feelings, as well as other mental distress symptoms
Tightness or a painful feeling in the chest
Traumatic injury
Combating Strokes, One Step at a Time
The Illinois Department of Public Health has designated Sarah D. Culbertson Memorial Hospital as an Emergent Stroke Ready Hospital (ESRH).
"As an ESRH, our patients are provided rapid medical access within the narrow 60-minute treatment window time," says Nancy Murray, Emergency Department (ED) Nurse Manager. "It is critical for stroke patients to receive medical attention immediately. Each second they have to wait for treatment denies their brain of much-needed blood and oxygen. Immediate treatment of strokes can minimize the long-term effects of a stroke and may even prevent death. Having this program allows us to provide timely treatment and prepares the patient for transfer to a primary stroke center, such as Memorial Medical Center."
Treating Heart Attack Patients Faster
Culbertson Memorial Hospital is now participating in the Prairie Cardiovascular "Stat Heart" program — a new cardiac program that identifies, treats, and transfers acute heart attack patients to a cardiac cath lab within minutes of arriving at the Emergency Room. The Prairie Stat Heart program puts in place a unique process that melds cooperation and collaboration between the community hospital emergency department, the EMS ground and air transport, Memorial Medical Center, St. John's Hospital and cardiologists of Prairie Cardiovascular.
Immediate Activation
Once an emergency room physician has identified an acute heart attack patient, the Stat Heart team is immediately activated. This is, in essence, a single call that activates the team at Culbertson, the helicopter/transport system and the specialists in Springfield simultaneously. This means that once the patient arrives in Springfield a team is standing by and immediately determines the best appropriate intervention for that patient.
The Stat Heart program has already served over 200 patients in central and southern Illinois who suffer the worse type of heart attacks – those likely to cause death or severe heart damage.
"Culbertson Memorial Hospital is fortunate to have two helicopters within 23 minutes flight time reach of the emergency room and a local emergency management crew a block away. This further cuts the length of time needed to transport the patient to the specialists in Springfield." — Nancy Murray, ED Nurse Supervisor