The Cardiopulmonary Rehabilitation Department of Culbertson Memorial Hospital has an established program that helps patients who are recovering from heart or lung disease. The mission of the Culbertson's Cardiac Rehabilitation department has been the same since March 6, 1996 when our first Cardiac Rehab supervisor Vicki Reedy took care of her first patient. Their mission is to reduce the risk of death from heart and lung disease and help patients resume normal daily activities.
Who is eligible for Cardiopulmonary Rehabilitation?
Anyone who has experienced the following may be eligible for Cardiopulmonary Rehabilitation:
Heart Disease
Heart Attack
Heart or Lung Surgery
Angioplasty
Angina
Heart Failure
COPD
Asthma
Chronic Bronchitis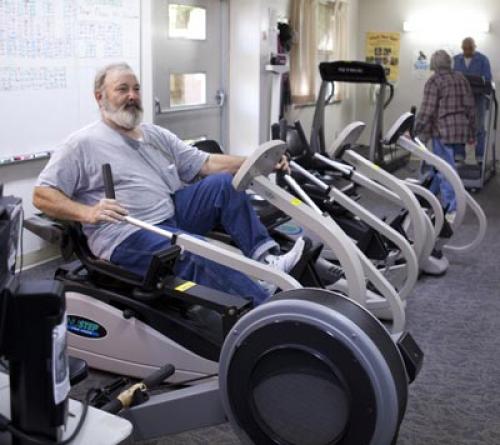 What are the benefits of CardioPulmonary Rehabilitation?
The most obvious benefit of CardioPulmonary Rehabilitation is the physical activity; however, patients also receive emotional benefits from the program. "Patients always feel better walking out the door than when they walked in the door for their exercise program," said program director Heidi Greer. The rehabilitation regimen improves heart and lung functions, helps control blood pressure and diabetes, and helps those with arthritis stay mobile. A majority of the CardioPulmonary Rehabilitation patients find they have more endurance, breathe easier and even sleep easier as they progress through the program. The program has proven to be a successful way to help patients reach and maintain optimal health.

What can I expect from the Cardiopulmonary Rehabilitation department?
When you walk through the department doors you will immediately see how bright and cheery the department is. This atmosphere helps lift the spirits of the patients who take part in the program. "You can also sense the feeling of camaraderie between the patients as they are working through their programs. They have a great time and support each other. Sometimes it can even get competitive," said Greer. Gerald Sears, a former Cardiac Rehabilitation patient, had only been a patient for two days when he realized how lucky he was to receive these services in Rushville. "They provide such a pleasant atmosphere, it just makes you want to get better," said Sears.
Phase I Cardiopulmonary Rehabilitation
This phase is primarily done immediately following a cardiac event, surgery or pulmonary intervention. This phase of Cardiopulmonary Rehabilitation aims to help give you an understanding of what will take place, as well as give you help and reassurance as you begin Cardiac Rehab.
Phase II Cardiopulmonary Rehabilitation
This phase lasts from 8 to 12 weeks and focuses on helping you regain your function back. During this phase, you will begin physical activity.
Phase III Cardiopulmonary Rehabilitation
Your last phase is the maintenance phase. This phase is a lifelong phase where you will keep up with everything you have learned.
What makes Culbertson's CardioPulmonary Rehabilitation different?
The difference between Culbertson's program and other exercise programs is all the monitoring is done by nurses. Each patients program is individually designed and consists of exercise and education. Amanda Workman, CNA works with Greer to monitor the patient's heart rates and other vital signs during workouts. Patients usually attend rehab classes two or three times a week. Each one-hour session includes a monitored program for warming up, stretching, exercising, and cooling down. Exercise equipment includes treadmills, rowing machines, arm ergometers, stationary bicycles, free weights and more. Our computerized equipment will monitor your condition throughout each session and will help our staff know exactly how your heart is responding to the exercise. For most patients, the program lasts for 8 – 12 weeks. At the end of that time, you will have the option of enrolling in our maintenance program, which will help you retain the conditioning you have received.
What else do I need to know about the CardioPulmonary Rehabilitation program?
The program hours are Monday through Friday from 6:00 am until 2:30 p.m.. If you are interested in enrolling in the Cardiopulmonary Rehabilitation program, you will need to have a referral from your family physician. Once patients have their referral, Greer takes the time with each potential patient to check their insurance coverage to come up with the program costs so clients can plan for the program financially.
The cost of Cardiopulmonary is based on each session attended. Medicare generally covers at least 80% of the program; Medicare supplemental insurance policies will usually pay the balance. Insurance varies and patients are encouraged to contact their respective carries for their covered benefits.
What is the Partners for Life program?
For years, the cardiopulmonary department focused on helping our cardiac and pulmonary clients regain their health through a monitored exercise program. During that time, many of our clients stated other members of their family would benefit greatly from a similar exercise program and our Partners for Life Program was established.
The partners for life program is open to all spouses, significant others, or siblings of current cardiopulmonary patients. The program is not as structured as the cardiopulmonary guidelines; however, it does have its own set of criteria to be followed. Before a client can enter the Partners for Life program, he or she must have a physician authorization and complete an evaluation process. Once the client has completed the evaluation, a member of our staff will educate them about the safe use of the exercise machines and the types of exercise they should be performing.
Partners for Life clients will exercise during our regular operating hours and must have their workout completed and ready to leave at closing time. Cost for the program is $37.00 for the initial evaluation and then $37.00 a month to exercise.
FOR MORE INFORMATION, OR TO ENROLL, CONTACT THE CARDIOPULMONARY DEPARTMENT AT (217)322-4321, EXT. 5285.