Dr. Alex Merlo Named Associate Emergency Department Medical Director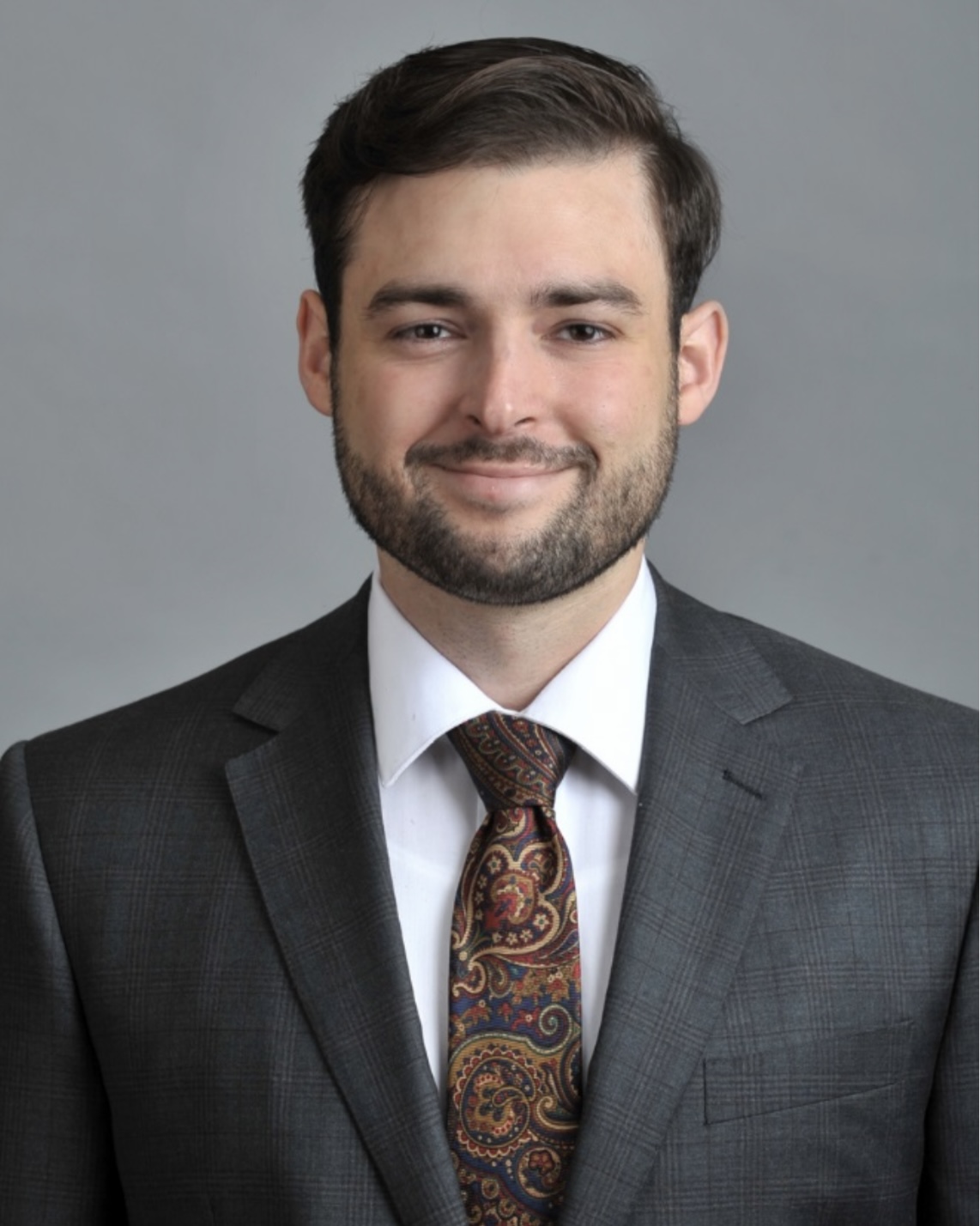 Sarah D. Culbertson Memorial Hospital and NES, the hospital's Emergency Medicine physician partner, are pleased to announce that Dr. Alex Merlo has been named the Associate Emergency Department Medical Director. Dr. Merlo is a dedicated and experienced physician with a background that includes a General Surgery internship at Western Michigan University and a comprehensive Family Medicine residency at Hinsdale Hospital in Illinois, during which he spent one month treating patients in the Peruvian Amazon.
Over the past two years Culbertson Memorial Hospital has made a focused effort to increase the quality of care and medical leadership of the Emergency Department. Hospital CEO, Gregg Snyder believes the addition of Dr. Merlo will strengthen the Emergency Department leadership. "Dr. Merlo is a well-known, highly skilled, and respected emergency department physician that we are glad to have as part of the Culbertson team", stated Snyder.
Dr. Merlo is excited about the leadership opportunity at Culbertson and brings a wealth of knowledge to this new role. Having already dedicated over four years of service to the Culbertson Emergency Department, he is well-equipped to provide exceptional care and leadership in this vital healthcare setting. His commitment to patient well-being makes him a valuable addition to the Culbertson medical team.
---
Culbertson Clinics add two new providers
At Culbertson Memorial Hospital, we're committed to expanding our medical team to broaden our medical expertise and provide more well-rounded healthcare services for patients of all ages. That's why we're thrilled to welcome two outstanding new providers onboard.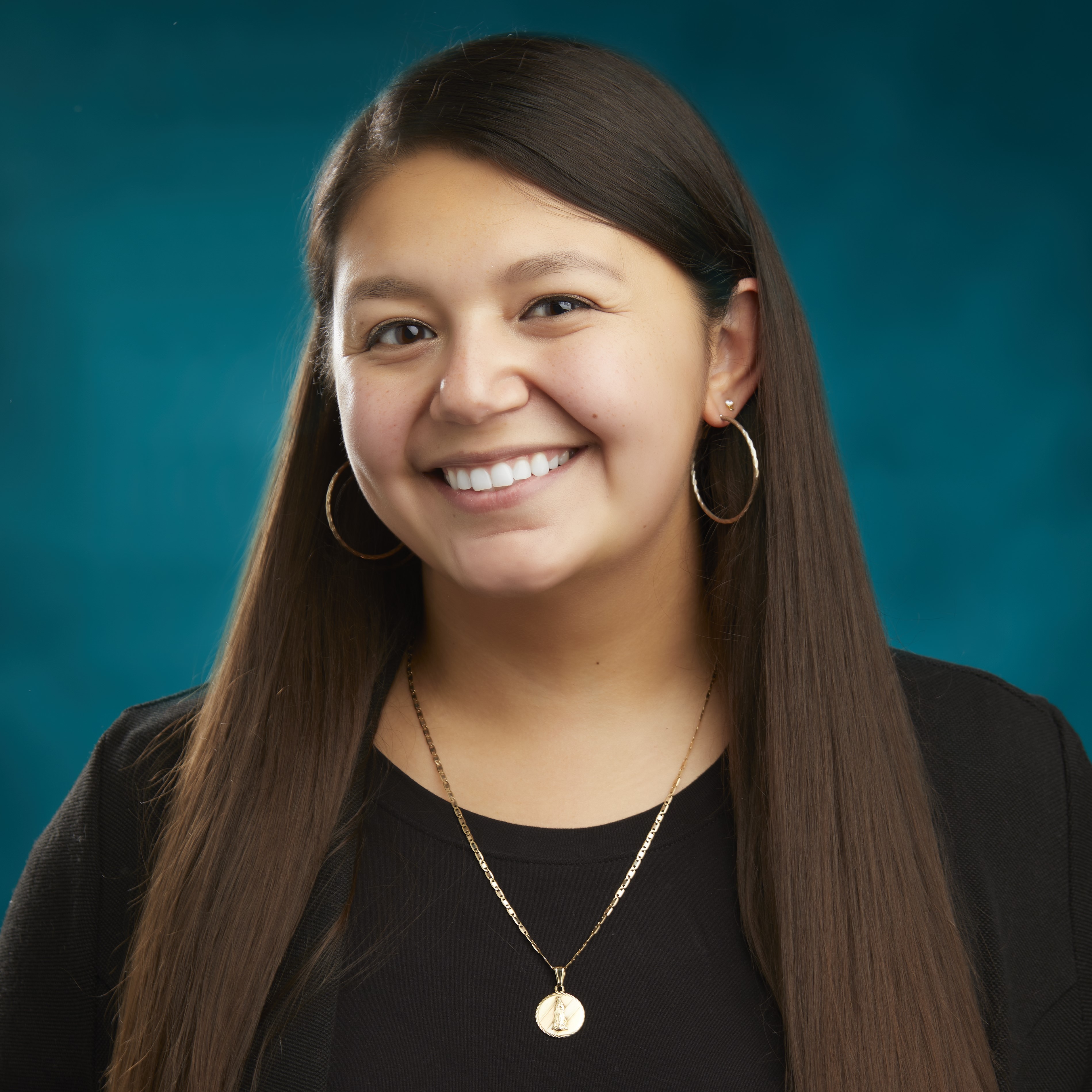 Deseray Aguirre, DO is an osteopathic physician who will see patients at the Elmer Hugh Taylor Clinic in Beardstown beginning Friday, Dec. 8. A Wisconsin native, she received a Bachelor of Science degree in biology from the University of Wisconsin-Oshkosh in Oshkosh, WI, before earning a Master of Science in nursing from Marquette University in Milwaukee, WI. Dr. Aguirre earned her DO from A.T. Still University-Kirksville College of Osteopathic Medicine in Kirksville, MO. She is board certified in family medicine and osteopathic manipulation treatment.
Dr. Aguirre wants her patients to know that she cares about them and their health - they are not just another number to her. "I know how difficult getting the care you need can be and how those barriers impact patients. I specifically wanted to become a family doctor because I know how important family is. Being able to take care of entire families is great for continuity and really getting to know your patients" said Dr. Aguirre.
Dr. Aguirre will see patients of all ages, but has a special interest in maternal and pediatric health.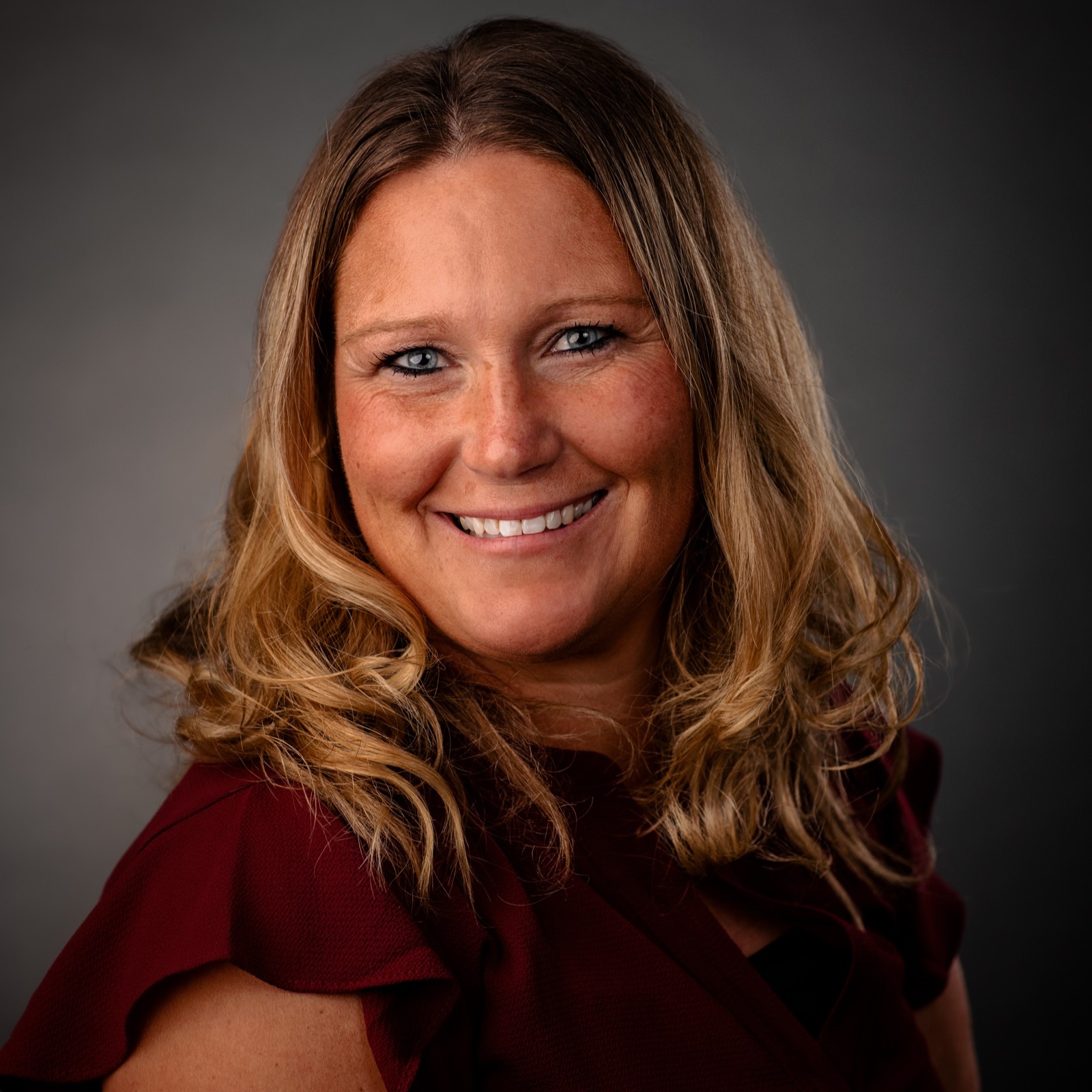 Heidi Greer, APRN is a family nurse practitioner who will see patients at Rushville Family Practice and the Elmer Hugh Taylor Clinic this December. After earning a BSN and MSN in nursing from Grand Canyon University, Heidi received her RN from the Graham School of Nursing in Canton. She received her FNP from Maryville University in St. Louis. Heidi originally joined Culbertson in August 2019 as a department head/RN in Cardiopulmonary Rehabilitation. She has worked as a PRN at both the hospital and Culbertson Community Clinics since fall 2022.
"I am very excited to continue working for the Culbertson Clinics in my new role. It gives me a great sense of purpose and meaning to be able to serve my local community," Heidi said. "I appreciate the team environment of Culbertson Memorial Hospital. Everyone works together to best serve their patients and their community. We take pride in patient care, always treating your family just the same as we would treat our own."
---
Sarah D. Culbertson Memorial Hospital & Culbertson Clinic Launch New Electronic Health Record System
Sarah D. Culbertson Memorial Hospital and Culbertson Clinics are launching a new electronic health record (EHR) system Monday, November 6, 2023. The new EHR will provide an integrated framework that communicates throughout our organization and provides our patients with a streamlined and secure way to manage their health and wellness information electronically.
"We're excited to implement this upgraded and integrated system. The Oracle Health Community Works system is designed to offer a new, efficient patient portal with enhanced technology and security," said Gregg Snyder, CEO of Sarah D. Culbertson Memorial Hospital. "Our entire team has worked diligently over the past year to bring this new system online and we are thankful for their dedication and effort as we reach our go-live date for this conversion. The transition to Community Works is a major milestone for Culbertson."
When Community Works goes live, and for the first few months thereafter, patients may notice a little more time is needed at their appointment. Our staff will be transitioning your information from our legacy systems over to Community Works and learning to work within a new EHR. "While the staff have done extensive training to make sure the transition goes smoothly, we do expect a few delays as we get our new system up and running," said Snyder. "We want to thank everyone for their patience in advance as we make this essential technologic upgrade."
After the transition period, patients can look forward to an enhanced registration and check-in process, an easy-to-use patient portal that will offer a single source to view lab results, review their most recent trip to the doctor's office, learn what to expect at an upcoming appointment, and directly message their provider.
Patients will also notice a change in the way they receive their billing statements from Culbertson and our Clinics. After November 6th, all balances due for your household will be on a single, cumulative balance statement, rather than receiving multiple statements for each visit.
---
Rollie Sarver, Maintenance, Named Employee of the 3rd Quarter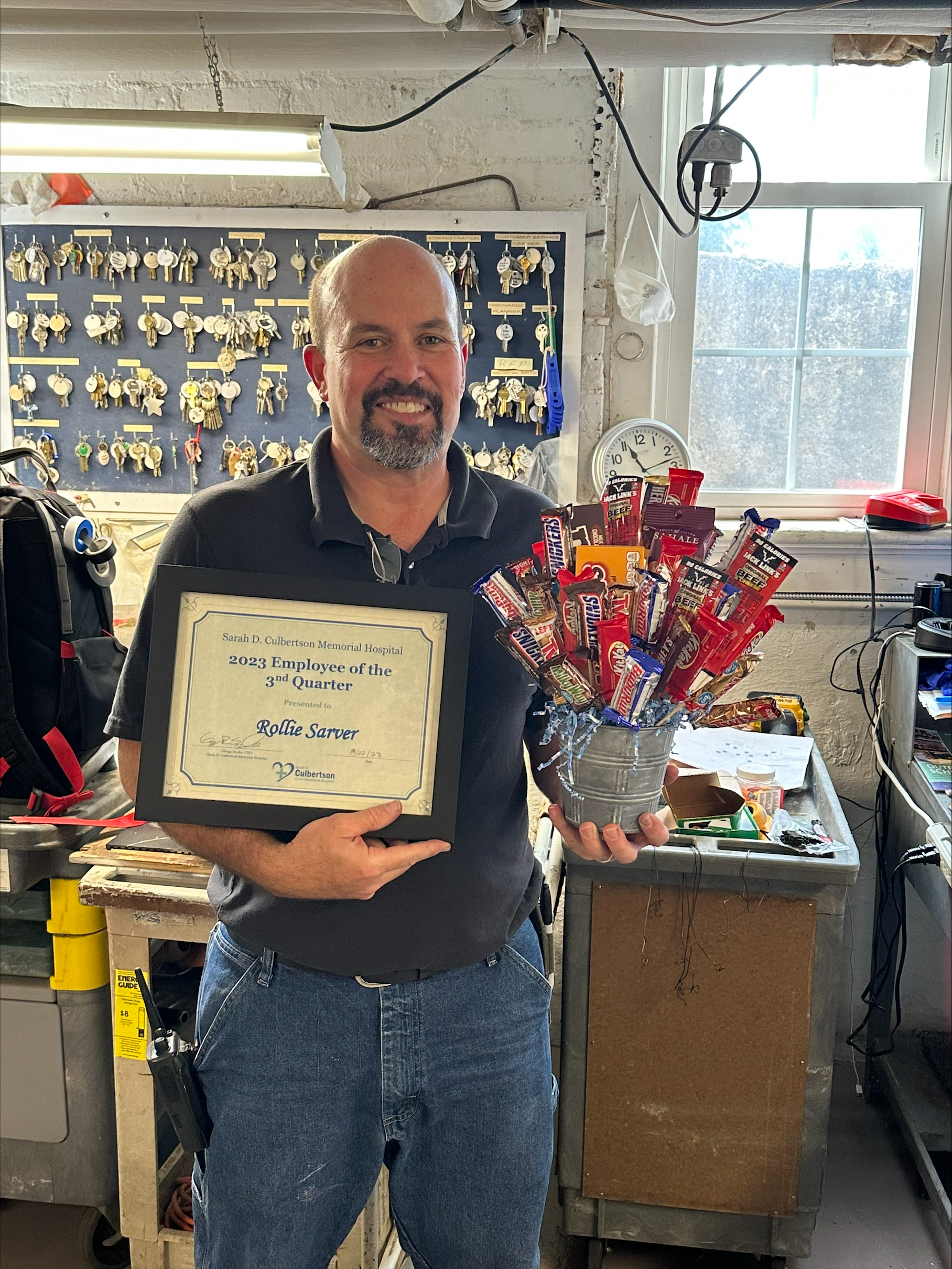 ---
Sarah D. Culbertson Memorial Hospital Provides Notice Of Data Event
Culbertson Memorial Hospital ("Culbertson") recently discovered an incident that may have impacted the privacy of information related to certain patients and current or former employees. While Culbertson is unaware of any actual or attempted misuse of information in relation to the incident, it is providing potentially affected individuals with information about the incident and steps individuals may take to help protect their information should they feel it is necessary to do so.
On March 30, 2023, Culbertson became aware of suspicious activity related to certain computer systems. Culbertson immediately launched an investigation, with the assistance of third-party forensic specialists, to secure its network and determine the nature and scope of the activity. The investigation determined that there was unauthorized access to Culbertson's network between March 27, 2023 and March 30, 2023 and the unauthorized actor had the ability to acquire certain information stored on the network during the period of access. Therefore, Culbertson is conducting a comprehensive review of the of the data determined to be at risk to assess what sensitive information is contained therein and to whom the information relates. Once its review is complete, Culbertson plans to mail notification letters directly to potentially impacted individuals which will include resources that individuals can reference to further protect their information.
The types of potentially impacted information for patients may include name, date of birth, Social Security number, medical diagnosis, treatment information, and health insurance information. The types of information potentially impacted for current and former employees may include name, date of birth, Social Security number, and financial account information.
Culbertson encourages potentially affected individuals to remain vigilant against incidents of identity theft by reviewing their account statements and explanation of benefits for unusual activity.
Interested individuals can find additional information about the event and how they can help protect their personal information at cmhospital.com. They may also write to Culbertson Memorial Hospital at 238 S Congress St, Rushville, IL 62681.
---
Vallerie Peters, Imaging, Named Employee of the 2nd Quarter

---
CMH Foundation announces new scholarship program
The shortage of qualified healthcare professionals, particularly in rural communities, is a growing problem. One of the best ways to assure a steady, well-educated workforce is to encourage people to enter the healthcare field through our recently updated CMH Foundation Scholarship Program. By offering scholarships to students pursuing a healthcare education, the Foundation seeks to enhance the availability and qualifications of healthcare professionals, thereby promoting community access to quality healthcare.
In addition to our scholarship program for high school seniors, we are pleased to announce the addition of the CMH Foundation Scholarship for current employees and the Future Of Culbertson Scholarship for current college students. These two new scholarships will have a award minimum of $5,000, with the total scholarship amount being determined by the current need of the position at the hospital, the number of applicants, and available funding. Upon receiving the scholarship, the recipient will be required to sign an intent-to-work agreement with Sarah D. Culbertson Memorial Hospital.
For more information on all of the scholarships available through the CMH Foundation, please visit https://cmhospital.com/foundation/scholarship-program
---
Cindy Constable, Dietary Services, named 2023 Employee of the 1st Quarter
---
CMH Foundation Scholarships now available for high school seniors
The Culbertson Memorial Hospital (CMH) Foundation has announced applications are now available for three $1,000 scholarships from the Elmer Taylor Health Profession Scholarship Fund. These scholarships are open to area high school seniors who reside in the Sarah D. Culbertson Memorial Hospital service area of Schuyler, Cass, and South Fulton Counties who are entering a healthcare related field of study that is currently available at Sarah D. Culbertson Memorial Hospital.
The Culbertson Memorial Hospital (CMH) Foundation is also announcing they are accepting applications for a $1,000 scholarship from the Regina Ehrhardt Scholarship Fund. This scholarships will be awarded to any Rushville-Industry High School or Brown County High School senior who is attending nursing school.
Applications are available from the offices of career counselors in area high schools, or can be accessed online at https://cmhospital.com/foundation/scholarship-program. For more information, please contact CMH Foundation Director, Molly Sorrell at 217/322-5269. Completed applications should be submitted to the Foundation office by April 07, 2023.
---

---
Stephanie Carithers, 2022 Employee of the year
Stephanie is works in our Therapy Department as an Occupational Therapist and Physical Therapy Assistant. Stephanie has worked at Sarah D. Culbertson Memorial Hospital for 11 years.
---
Dr. Kerstin Stitt Joins Rushville Family Practice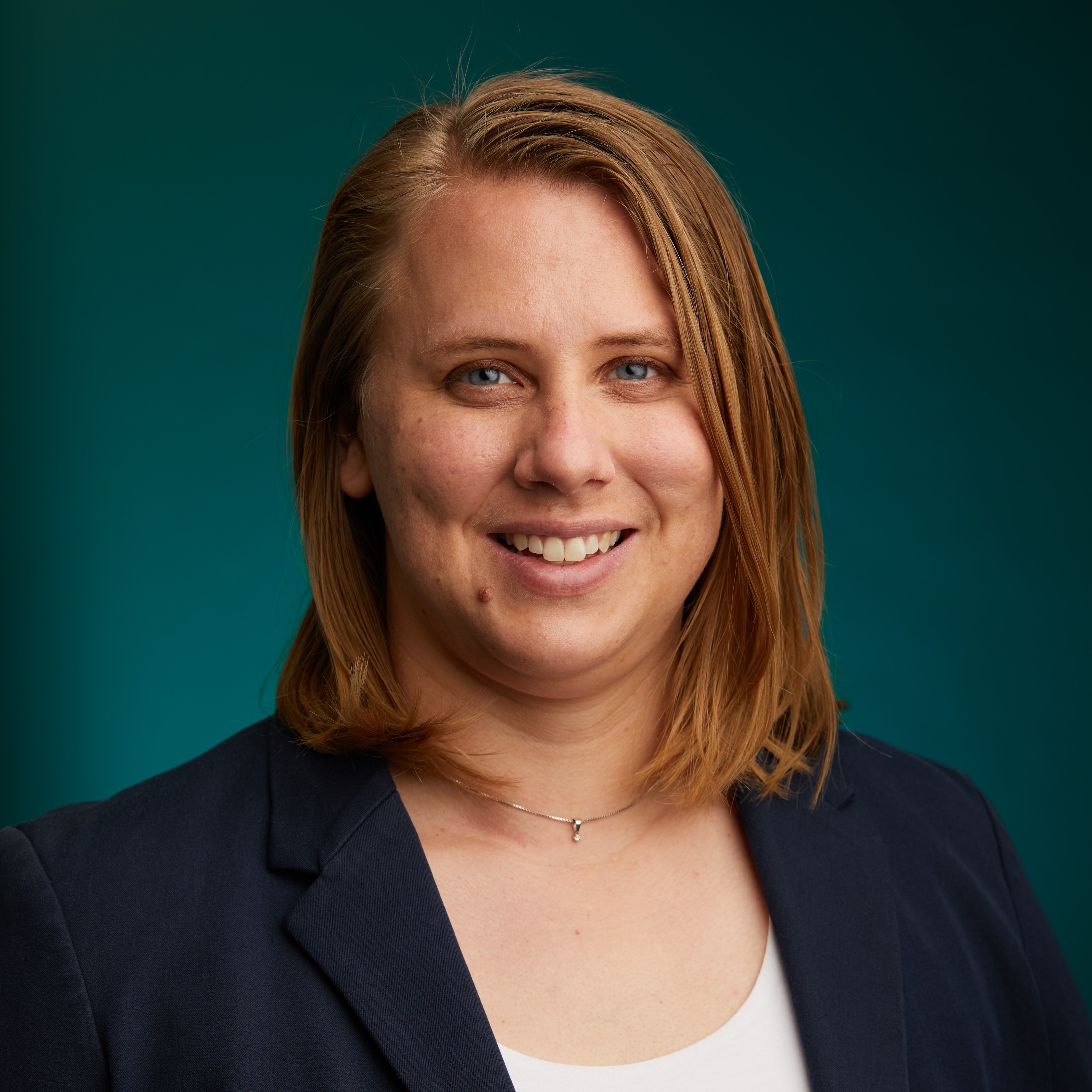 Gregg Snyder, CEO is pleased to announce that Kerstin Stitt, DO has joined Rushville Family Practice and will be seeing patients on Monday, December 05.
"We are very excited to welcome Dr. Stitt to Culbertson Memorial Hospital and Culbertson Clinics," said Snyder. "She comes highly recommended from our Chief Medical Officer, Dr. William Dixon and provides a great blend of top-notch clinical education and knowledge with a strong passion for providing community-based care."
Dr. Stitt received her Doctor of Osteopathic Medicine from the Kirksville College of Osteopathic Medicine in Kirksville Missouri in 2019. She completed her residency at Southern Illinois University Family Medicine in Quincy, IL in 2022. As an osteopathic medicine practitioner, she is trained in understanding how the mind, body, and spirit connect and impacts the body. "My approach is empathetic and non-judgmental. I see myself as an educator and a guide who empowers individuals to become active decision-makers in their own care," says Stitt.
Rushville Family Practice offers patients of all ages high quality, personalized health care. The providers have a wide range of clinical interests and understand the importance of getting to know patients personally, their medical history, their family and all of the factors that have an impact on their health.
For more information on the practice or to schedule an appointment with Dr. Kerstin Stitt, please call 217-322-2245.
---
Dr. Carlos Urdininea Kirkwood Joins Elmer Hugh Taylor Clinic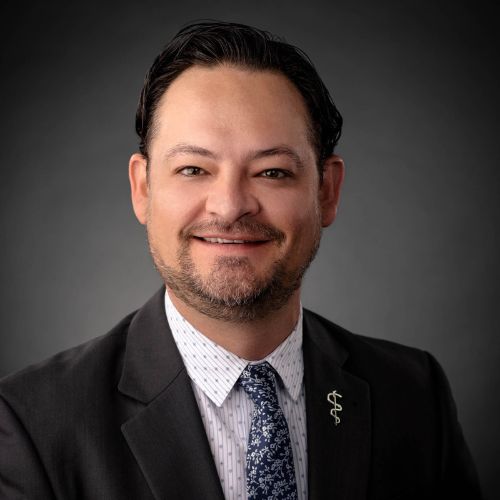 Sarah D. Culbertson Memorial Hospital is proud to announce that Dr. Carlos Urdininea Kirkwood will be joining the staff at Elmer Hugh Taylor Clinic in Beardstown on January 5, 2023.
Trust is a foundational element of any doctor-patient relationship. While helping a patient understand why a treatment was ordered can offer knowledge and peace of mind, it can also establish the assurance that the provider is always working in the patient's best interests. That's why Dr. Carlos Urdininea Kirkwood stresses the importance of explaining everything to his patients in terms that are easy for anyone to understand. As an internist at the Elmer Hugh Taylor Clinic in Beardstown, Dr. Urdininea listens to his patients and clearly explains what the patient can expect from his treatment plan.
"I spend the time explaining my plans, treatments, or approaches to their diseases in a way they will understand. I'm not a doctor who will just throw all medical terms to them and expect them to just say, 'Yes, doctor.' At the end of the visit, my goal is to have those patients understand the importance of my treatment or what to expect from those results. The relationship I'd like to have with those patients is a relationship of trust and confidence." — Dr. Carlos Urdininea Kirkwood
Dr. Urdininea earned his medical degree in 2006 from Universidad Nuestra Señora de La Paz in La Paz, Bolivia, before completing his specialty training in internal medicine at Advocate Illinois Masonic Medical Center in Chicago. He completed a fellowship in nephrology at Loyola University Medical Center in Maywood, IL, and Edward Hines, Jr. VA Hospital in Hines, IL. Since then, Dr. Urdininea has worked as an internist at Mason District Hospital in Havana. Like Culbertson, Mason District Hospital is a Critical Access Hospital serving a small, rural area that depends on the hospital for many of its healthcare needs. For Dr. Urdininea, this means providing specialized care that may not otherwise be available — especially for common conditions like hypertension and diabetes — in addition to primary care.
"Rural health is quite unique in the sense that access to medical care is difficult, but with passion and care, those gaps in healthcare can be filled for the benefit of the community," he said. "Hypertension and diabetes are both everywhere. There are diseases that are highly preventable and highly treatable. Of course, patients with those diseases are very grateful to have specialty services I can provide to them."
No two patients are the same — what works for one patient may not work for the next. Consequently, Dr. Urdininea said he takes time listen to each patient rather than try a one-size-fits-all treatment. "My patients are my priority. I don't rush in, go in and out, say, 'Hi, take this pill, see you later,'" Dr. Urdininea said. "My approach is more of a doctor who cares, a doctor my patients can rely on. I'll do all I can do to help them feel better and stay healthy.
Board certified by the American Board of Internal Medicine, Dr. Urdininea will see patients ages 18 and older. Additionally Dr. Urdininea is fluent in Spanish and English.
---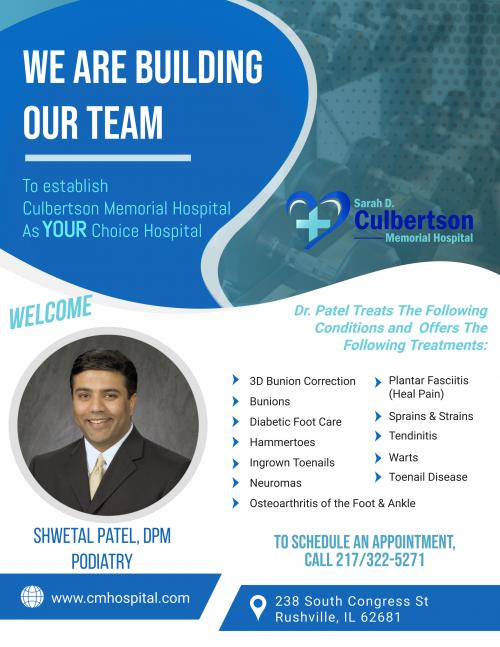 ---
Brittney Taylor to leave Rushville Family Practice
It is with a heavy heart I announce to you that effective December 16th, Brittney Taylor will be leaving Rushville Family Practice. After 9 years of providing excellent health care services to our community, Brittney has decided it was time to pursue her career elsewhere. This was a difficult decision for Brittney to make, and we wish her nothing but the best in her new practice. She will be sadly missed here at Sarah D. Culbertson Memorial Hospital.
Through this time of transition, we pledge to provide each of our patients with a smooth continuation of care as we look to fill this vacancy with a new Physician who will be as dedicated to their patients as Brittney was. As part of our unwavering dedication to quality care, we are working with our new Medical Director, Dr. William Dixon from the SIU School of Medicine, to install a highly qualified interim physician to serve our patients in Rushville during the search for a permanent provider.
Within the next few days, we will provide additional information on transferring your care to one of our other providers. Our promise is that you will continue to receive the same quality of care you have come to expect from Culbertson.
Gregg Snyder, CEO
Sarah D. Culbertson Memorial Hospital
---

---
COVID 19 Update
Per the Illinois Department of Public Health and CDC Guidance, masks are no longer required in healthcare settings unless the Community Transmission Level is "high". Because our service area's current transmission level is low, starting today staff, patients and visitors no longer need to wear a mask at Culbertson Memorial Hospital or at our Culbertson Clinic locations.
If you would like to continue to wear a mask at any of our facilities, they will be readily available for you. In addition, we ask that anyone who is currently experiencing respiratory symptoms to please wear a mask upon entry.
---
17th Annual Dr. Russell Dohner Memorial Golf Outing
The Dr. Russell Dohner Memorial Golf Outing brings together our employees, community members, business partners and volunteers to support Sarah D. Culbertson Memorial Hospital. This year will be no exception and we hope to see you at our 17th Annual Golf Outing on Friday, June 3.
"Culbertson Memorial Hospital is an institution we can all be proud of. Our employees have proven they are resilient, dedicated and have navigated the last two years with as much success as any larger hospital in our area. Our employees are working hard to make sure Culbertson Memorial Hospital is the choice hospital for patients in our area, and the Foundation wants to support that journey by making sure the staff have the resources and equipment they need," said Molly Sorrell, Director of Development, Marketing and Community Relations.
The proceeds from this year's golf outing will help us provide funding for the purchase of dedicated pediatric therapy equipment and provide a sensory integration area that will help children develop to their fullest potential. If you are interested in participating or sponsoring this year's event, please click here for more information.
---
Infusion Center Now Seeing Patients
Culbertson Memorial Hospital is proud to provide cancer patients a more convenient way to receive the treatments they need close to home with the opening of our new Infusion Center. Featuring the same familiar faces in a friendly, caring atmosphere, the Infusion Center will provide a dedicated space to care for cancer patients.
---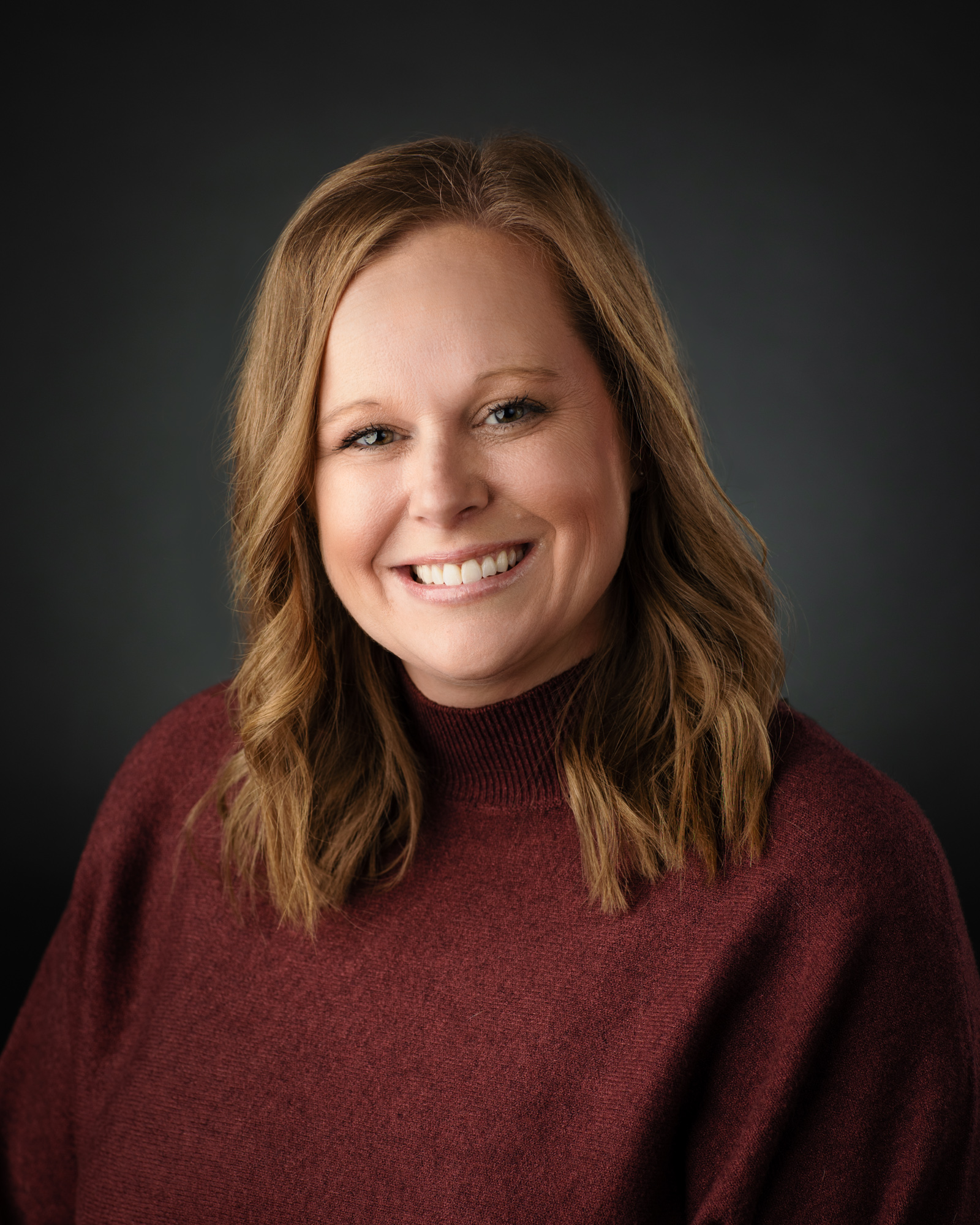 Courtnie Trone, a member of our laboratory services team voted as 2021 employee of the year
---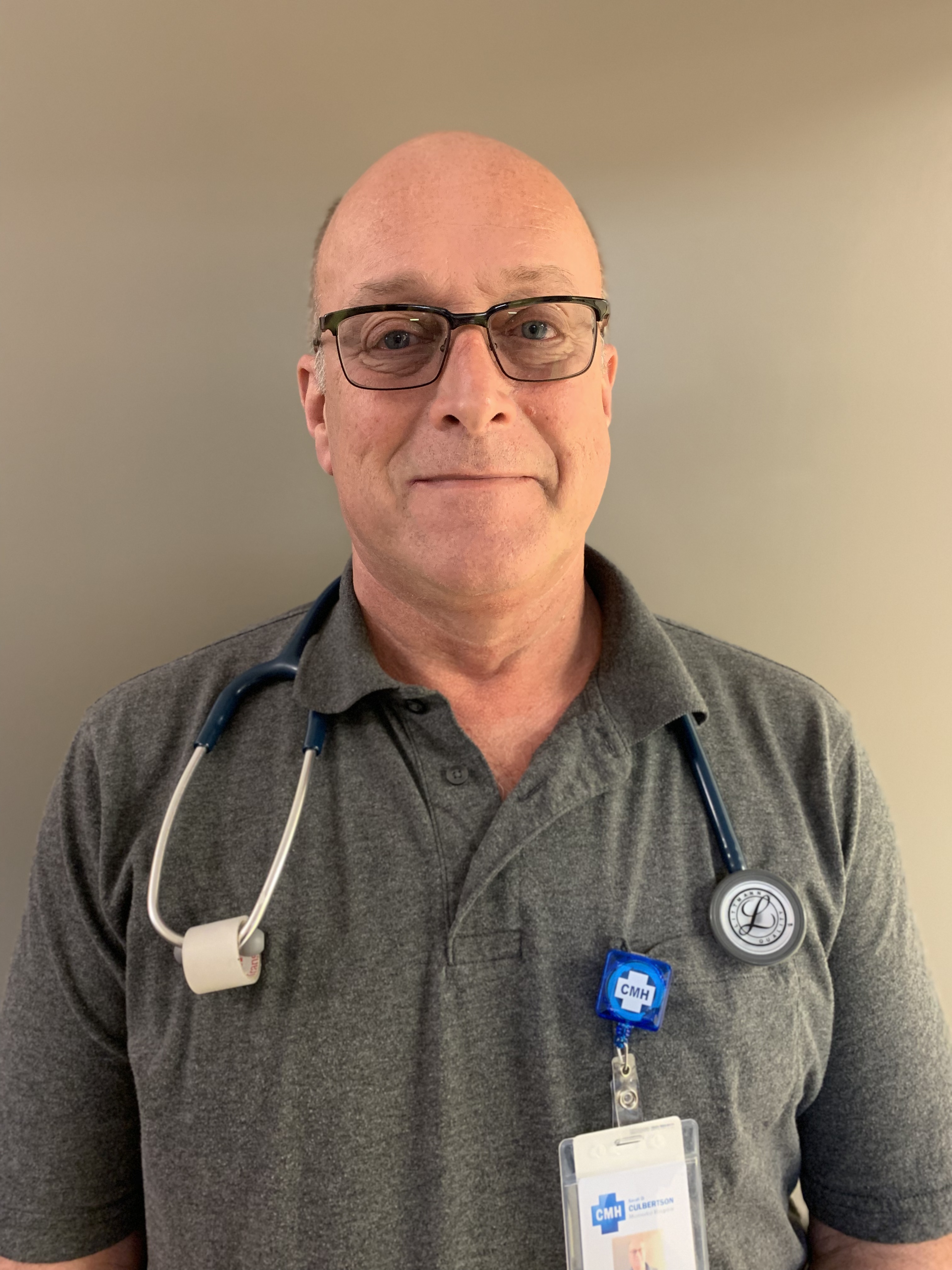 RICK TAYLOR- THE LATE RICK TAYLOR, ER WAS SELECTED AS 2021 EMPLOYEE OF THE FOURTH QUARTER
---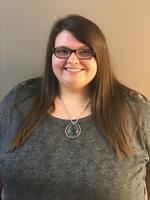 MARIAH CALLIHAN - PATIENT ACCESS AT CULBERTSON CLINICS SELECTED AS 2021 EMPLOYEE OF THE THIRDQUARTER
---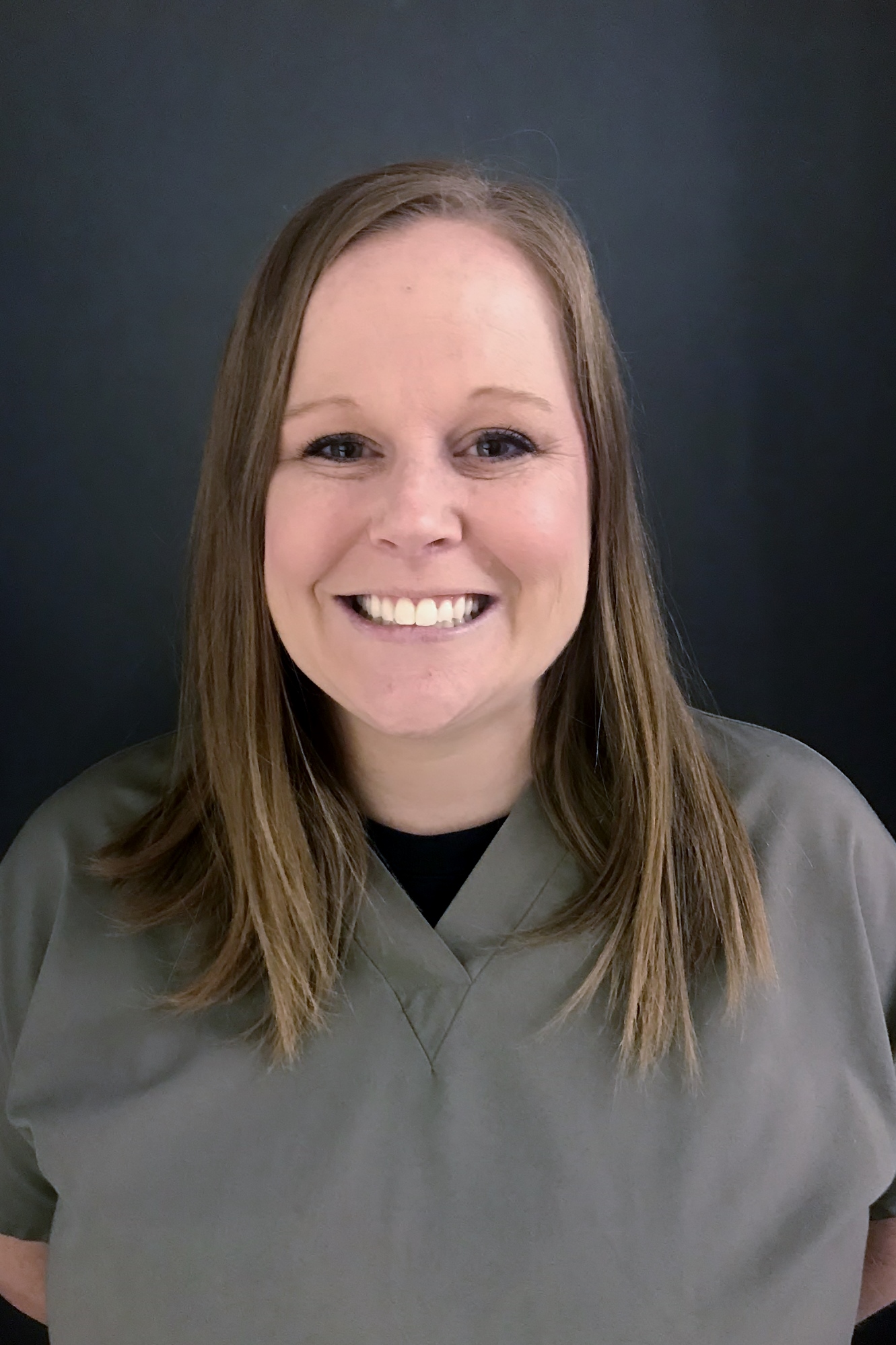 COURTNIE TRONE - LABORATORY SERVICES SELECTED AS 2021 EMPLOYEE OF THE SECOND QUARTER
---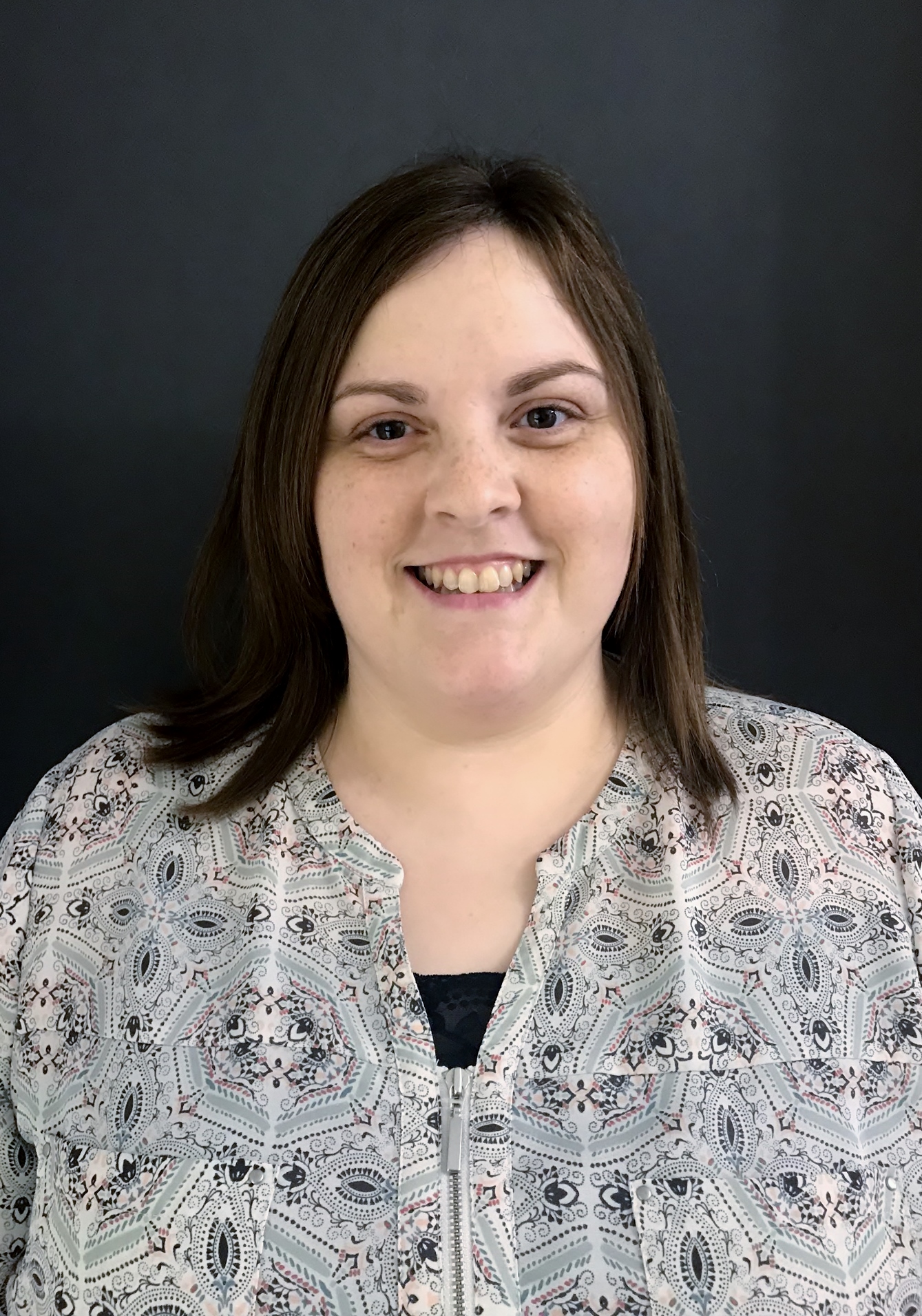 JESSICA HENDRICKS - PATIENT ACCESS SELECTED AS 2020 EMPLOYEE OF THE YEAR
---
Sarah D. Culbertson Memorial Hospital Board Approves Master Facility Plan and Authorization to move forward with Phase I, $5.5 Million Dollar Renovation of the hospital's West Wing.
The Sarah D. Culbertson Memorial Hospital Board of Directors voted Friday, November 20 with a 9 to 0 vote to approve a $15.4 million dollar Master Facility Plan to renovate the interior of the hospital and authorized administration to move forward with Phase I of the plan.
"The master facility plan represents a strategic investment in our hospital and our community, said Greg Snyder, Board President. The facility improvements established in this plan allow us to expand services to the community and help ensure the long term viability of Culbertson Memorial Hospital. The plan will be implemented in stages to provide flexibility of design and to maximize financial utilization. In the vastly changing world of healthcare this plan is a tremendous positive for the Rushville and the surrounding communities."
"This investment is about more than simply new facilities. Over the past several months, in our response to the COVID-19 pandemic, we have learned where some of our vulnerabilities lie; and through this project, we can turn our vulnerabilities into opportunities to improve how healthcare is delivered in Schuyler County and the surrounding area," said John E. Kessler, CEO. "This project will significantly improve the way we serve our patients, from how patients access our campus to how our clinicians can deliver care every day. Sarah D. Culbertson Memorial Hospital has been providing healthcare to our region for nearly 100 years, and as we approach our 100th Anniversary in February, this project is the next step in helping us care for you and your family over the next 100 years."
"Phase I was the logical starting place, as the Master Facility Plan showed our Outpatient Specialty Clinics were one of our greatest vulnerabilities. We currently have a lack of space to bring in the additional Specialty Care Providers the community needs," said Kessler. "We will also be able to create negative pressure rooms which are vital to addressing airborne viruses. Additionally, Phase I will be completely funded by monies designated for renovations and pandemic response."
Specific plans include a significant expansion and renovation of the 42-year-old Emergency Department, centrally locating and expanding Laboratory Services, the creation of a Cancer Center, expansion of our Outpatient Specialty Clinics, privatization of our patient rooms and expansion of our Surgical Services.
The renovations will be broken into six phases, and construction is anticipated to begin July of 2021 and be completed in February of 2027. In addition to the phases listed below, the construction project will also help the hospital to become a 100% sprinkled facility for fire safety.
The 100th Anniversary Renovation Project includes:
Phase 1 West Wing Renovation
Five Outpatient Specialty Clinic care areas
Expansion of Cardiac-Rehab Cancer Center with private and semi-private treatment rooms
Dedicated Patient Access Area and Waiting Room
Phase 2 Laboratory Services, Main Entrance and Patient Access
Centrally locates and expands Laboratory Services
Creates a new main entrance to the hospital
Renovates the main waiting room Creates a new Patient Access Area
Phase 3 Emergency Department Expansion
Creates a dedicated Trauma Room that can handle isolation patients
Expands our treatment rooms from four to five
Creates a centrally located nursing station
Gives us the capability of having negative pressure rooms
Phase 4 Imaging Centralization
Allows all testing for Imaging to be completed within the Imaging Department. Currently, Imaging has testing sites located throughout the hospital.
Phase 5 Patient Wing
Renovates nine patient rooms so that each room has their own toilet, sink and shower
Decreases patient beds from 22 to 12 by creating 6 private patient rooms and 3 semi-private patient rooms
Establishes a dedicated staff lounge and staff training area
Phase 6 Surgical Services Expansion
Builds two new Surgical suites and one scope room
Establishes a four bed PACU unit Creates six pre-procedure patient bays
Centrally located nursing desk
"The healthcare needs of our community have changed over the last decade, as more and more services have been pushed to the outpatient environment. While we are decreasing the total inpatient beds to 12, we feel the other changes we are making are truly what this community needs from us going forward. We also believe that by decreasing our number of beds we have the opportunity to upgrade our Med-Surg patient rooms to allow for Private and Semi-Private patient rooms," said Kessler. "These new patient rooms will be consistent with the accommodations you see in newer hospitals today and will be much more comfortable and create a healing environment for our patients."
---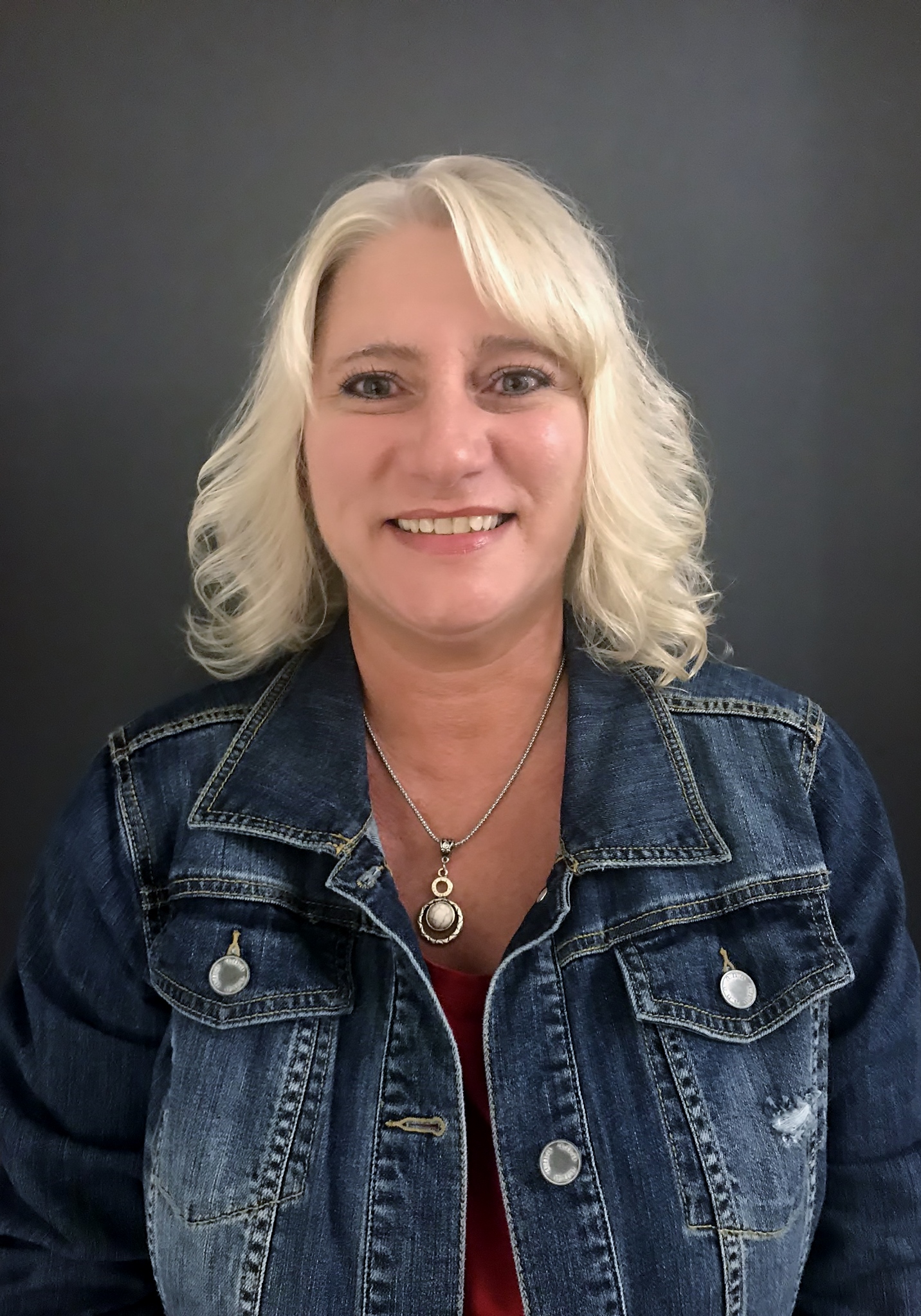 EMPLOYEE OF THE 4th QUARTER
Bridget Hamm, Administrative Assistant has been selected at Culbertson Memorial Hospital's Employee of the 4th.
---
Rushville FAmily Practice Welcomes Dr. Isidoros Vardaros
Dr. Isidoros Vardaros will begin seeing patients ages 21 and up on Tuesday, October 6 at Rushville Family Practice located at 233 South Congress Street in Rushville. Dr. Vardaros is a Primary Care physician who will see patients on Tuesdays and Wednesdays from 8am until 4pm.
---
Employee of the 3rd Quarter
Jessica Hendricks, Patient Access Coordinator has been selected at Culbertson Memorial Hospital's Employee of the 3rd Quarter.
---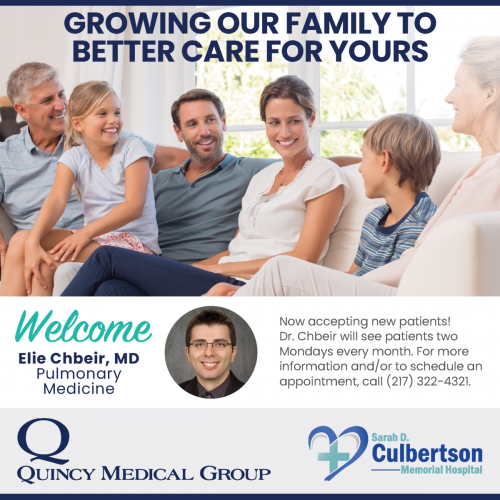 ---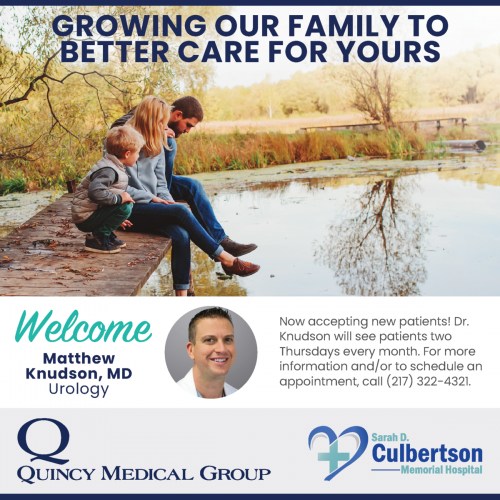 ---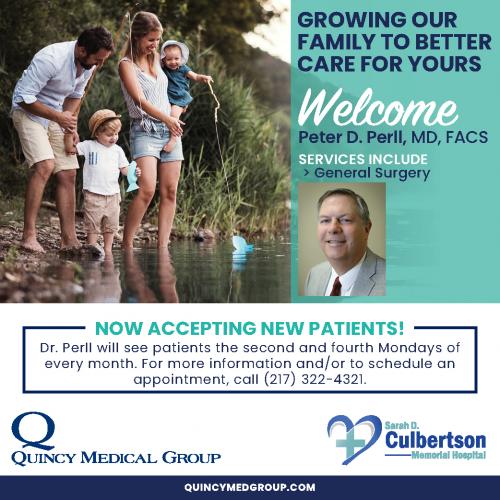 ---
Employee of the Second Quarter
Karen Huffman, Imaging is Culbertson Memorial Hospital's Employee of the Second Quarter.
---
COVID-19 Hotline
If you have questions concerning COVID-19, otherwise known as the Coronavirus, please contact the Illinois Department of Public Health Hotline at 1-800-889-3931. They can also be reached by emailing DPH.SICK@ILLINOIS.GOV.

We can not emphasize enough, how important handwashing is in defense of not only the Coronavirus, but Influenza and many other contagious illnesses. If you are not feeling well, please do not expose others by going out in public. If you have respiratory symptoms and are concerned that you may have been exposed to the Coronavirus, or have traveled outside of the United States in the past 14 days, please contact your local Health Department or call the IDPH hotline above.


---
ENVIRONMENTAL SERVICE
Culbertson Memorial Hospital Enters Into Agreement with HHS for Environmental Service
At the Sarah D. Culbertson Memorial Hospital Board of Directors meeting on Thursday, February 27, 2020, the Board of Directors voted to enter an agreement with HHS for Environmental Services (Housekeeping).
"Our current Housekeeping Director is leaving, and we have been looking for her replacement since December. Unfortunately, we have not had an applicant we feel had the experience to lead the department," said John E. Kessler, CEO. "This juncture gave us the opportunity to partner with an organization that can bring resources and expertise than an organization our size often cannot afford on our own."
For over 40 years HHS has been successful at serving their customers' needs and developing forward-thinking solutions. With more than 500 partner organizations both domestically and internationally, HHS has built a highly focused team of operational experts who are specialized in their specific service area. Their environmental services experience, and detailed cleaning processes, will allow Sarah D. Culbertson Memorial Hospital to exceed CDC standards while reducing the risk of healthcare-associated infections and cultivating a hygienic, healing environment. As our partner, they will work seamlessly to become a part of our team for increased efficiency and ultimately, better cleanliness outcomes.
"We were seeking an environmental services partner who could quickly integrate themselves into our operations," said Gregg Snyder, Board Chairman. "We have a tremendous commitment to excellent patient care and the thoroughness of our Housekeeping Department is a critical piece of that. With HHS, we know we're in extremely capable hands."
"We anticipate transitioning over to HHS in the next 30 to 60 days. All of our current housekeeping employees will be given the opportunity to continue working at Sarah D. Culbertson Memorial Hospital and Culbertson Clinics," said Kessler.
Culbertson Memorial Hospital is not looking to contract with HHS for any other services.



---

Neurology Services Now Available

Sarah D. Culbertson Memorial Hospital is pleased to welcome Dr. Daniel Kimple, Neurology to our Outpatient Specialty Clinics. Dr. Kimple will begin seeing patients on February 18, 2020 and will be at Culbertson the 3rd Tuesday of every month.


---

Dr. Jason Rakita Announces His Departure
At the January 23, 2020 Sarah D. Culbertson Memorial Hospital Board of Directors meeting, John E. Kessler, CEO announced Dr. Jason Rakita will be leaving Rushville Family Practice to pursue a fellowship in Sleep Medicine. "We appreciate the years of service Dr. Rakita has provided to Culbertson Memorial Hospital and his patients at Rushville Family Practice. While we hate to see him go, we wish Dr. Rakita nothing but the best in his future endeavors" stated Kessler.
After providing three and a half years of service to our patients, Dr. Rakita will be moving to New Hampshire where he will begin his Fellowship in Sleep Medicine at Dartmouth-Hitchcock Medical Center. It was a difficult decision for Dr. Rakita to leave his practice in Rushville and he wants his patients to know "I will greatly miss this community and all of my patients."
Dr. Rakita will continue seeing his current patients at Rushville Family Practice through the month of June.



---
Board of Directors Vote To Accept Culbertson Gardens Bid
After evaluating all options, the Sarah D. Culbertson Memorial Hospital Board of Directors voted to accept a bid from Tim and Shiela Ward in the amount of $141,500 for the purchase of Culbertson Gardens.
"It was an extremely difficult decision for us to make, as we wanted not only what was best for the hospital financially, but for our current residents and this community," said Board Chairman Gregg Snyder. "We appreciate that Tim and Shiela Ward see the value in keeping this facility open for our community."
The hospital takes a financial hit every year from Medicare on the cost report for operating the Gardens and it has made a major impact on the hospital's finances. While having Critical Access Hospital (CAH) status has helped the hospital remain financially solvent, the federal government's method of paying for Medicare services causes Culbertson to lose over a hundred thousand dollars annually by operating Culbertson Gardens. Ultimately, the Board of Directors made the decision that their primary mission is to operate a hospital, and that they must do whatever is necessary to keep the hospital financially viable in the years to come.
Legal requirements stated that Culbertson Gardens must be sold through a sealed bid process. The sale of Culbertson Gardens was put out for sealed bid in November and was advertised not only locally, but throughout the state of Illinois and with a Senior Living brokerage firm.
"While we would have liked to have seen more bids, we are grateful to have received a bid from someone with vested interest in this community. If we didn't accept the bid from Tim and Shiela Ward, we would be forced to start the bidding process over again and we didn't feel that would be in the best interest of the hospital or the Culbertson Gardens residents," stated John Kessler, CEO. "Tim and Shiela have a passion for working with senior citizens and many Culbertson Gardens residents had expressed to me and the Board their support for the Wards. We feel accepting this bid will continue a much needed service for this community for many years to come"



---

Temporary Visitor Restrictions
Due to the increased incidence of influenza-like illness, Culbertson Memorial Hospital is implementing temporary visitor restrictions.
No visitation by persons less than 18 years of age

Limit the number of visitors to two per patient at any one time

Request that visitors with acute respiratory symptoms not visit until symptoms have cleared.

If there is a need to visit a patient, a mask must be worn while inside the hospital

Limit visits to patients in isolation for influenza to person who necessary for the patients emotional well-being and care.

All visitors should use good hand hygiene and respiratory/cough etiquette during the visit

Hand Sanitizer and Cough Etiquette stations are located at each entrance

Hand sanitizer should be used upon entering a patient's room and when leaving.
The visiting restrictions are in compliance with the recommendations from the Illinois Department of Public Health (IDPH)



---


Employee of the Year
Nicole Franklin, Dietary Services was chosen by her peers as the 2019 Employee of the Year for Culbertson Memorial Hospital. Nicole has worked at the hospital for over 16 years and is known for being a dedicated and hard-worker, fun, friendly, and knowledgeable in her field of work.


---
For more information on any of the press releases above, please contact Molly Sorrell, Director of Community Relations and Marketing at 217/322-5269 or msorrell@sdcmh.org.