17th Annual Dr. Russell Dohner Memorial Golf Outing
The Dr. Russell Dohner Memorial Golf Outing brings together our employees, community members, business partners and volunteers to support Sarah D. Culbertson Memorial Hospital. This year will be no exception and we hope to see you at our 17th Annual Golf Outing on Friday, June 3.
"Culbertson Memorial Hospital is an institution we can all be proud of. Our employees have proven they are resilient, dedicated and have navigated the last two years with as much success as any larger hospital in our area. Our employees are working hard to make sure Culbertson Memorial Hospital is the choice hospital for patients in our area, and the Foundation wants to support that journey by making sure the staff have the resources and equipment they need," said Molly Sorrell, Director of Development, Marketing and Community Relations.
The proceeds from this year's golf outing will help us provide funding for the purchase of dedicated pediatric therapy equipment and provide a sensory integration area that will help children develop to their fullest potential. If you are interested in participating or sponsoring this year's event, please click here for more information.
---
Infusion Center Now Seeing Patients
Culbertson Memorial Hospital is proud to provide cancer patients a more convenient way to receive the treatments they need close to home with the opening of our new Infusion Center. Featuring the same familiar faces in a friendly, caring atmosphere, the Infusion Center will provide a dedicated space to care for cancer patients.
---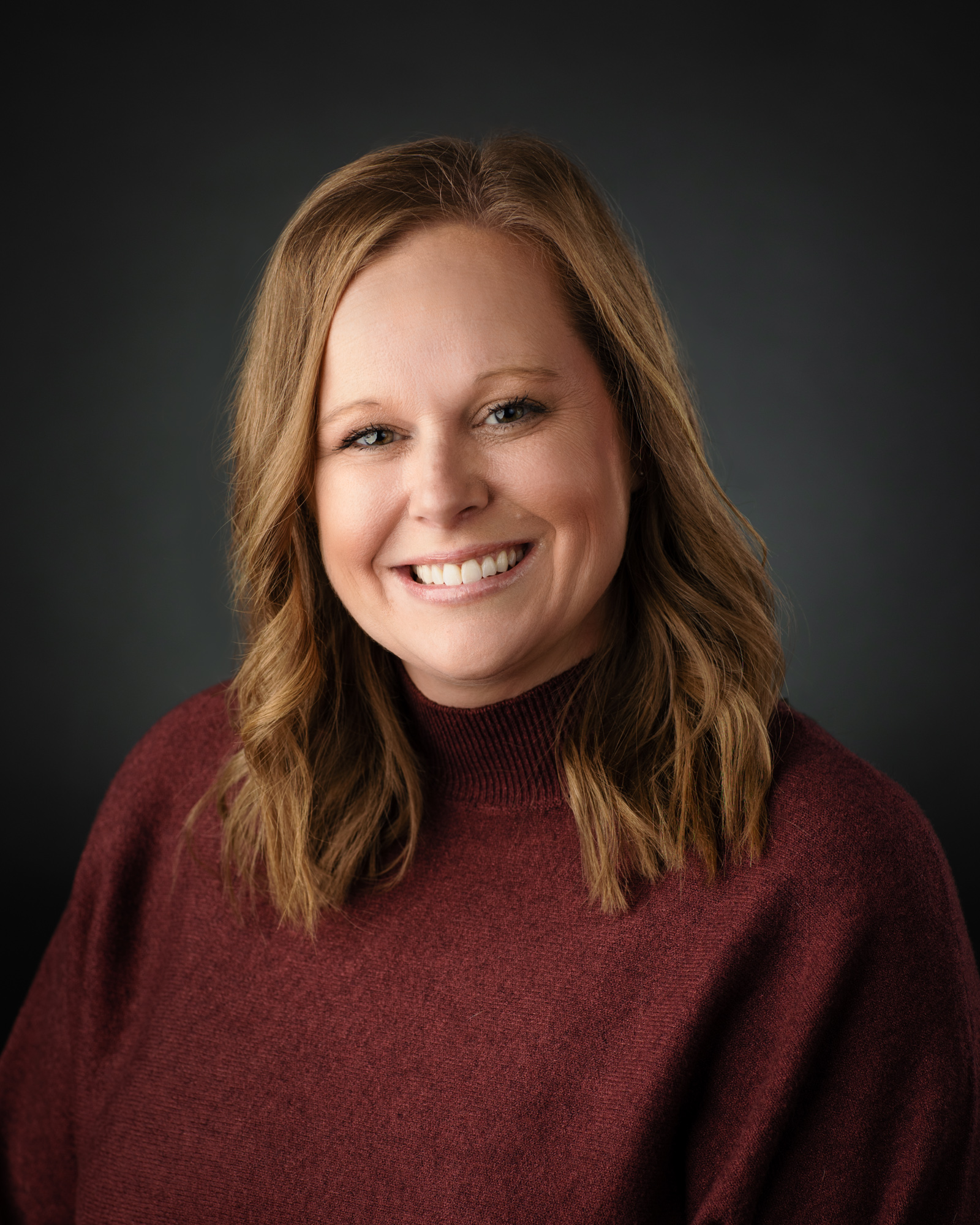 Courtnie Trone, a member of our laboratory services team voted as 2021 employee of the year
---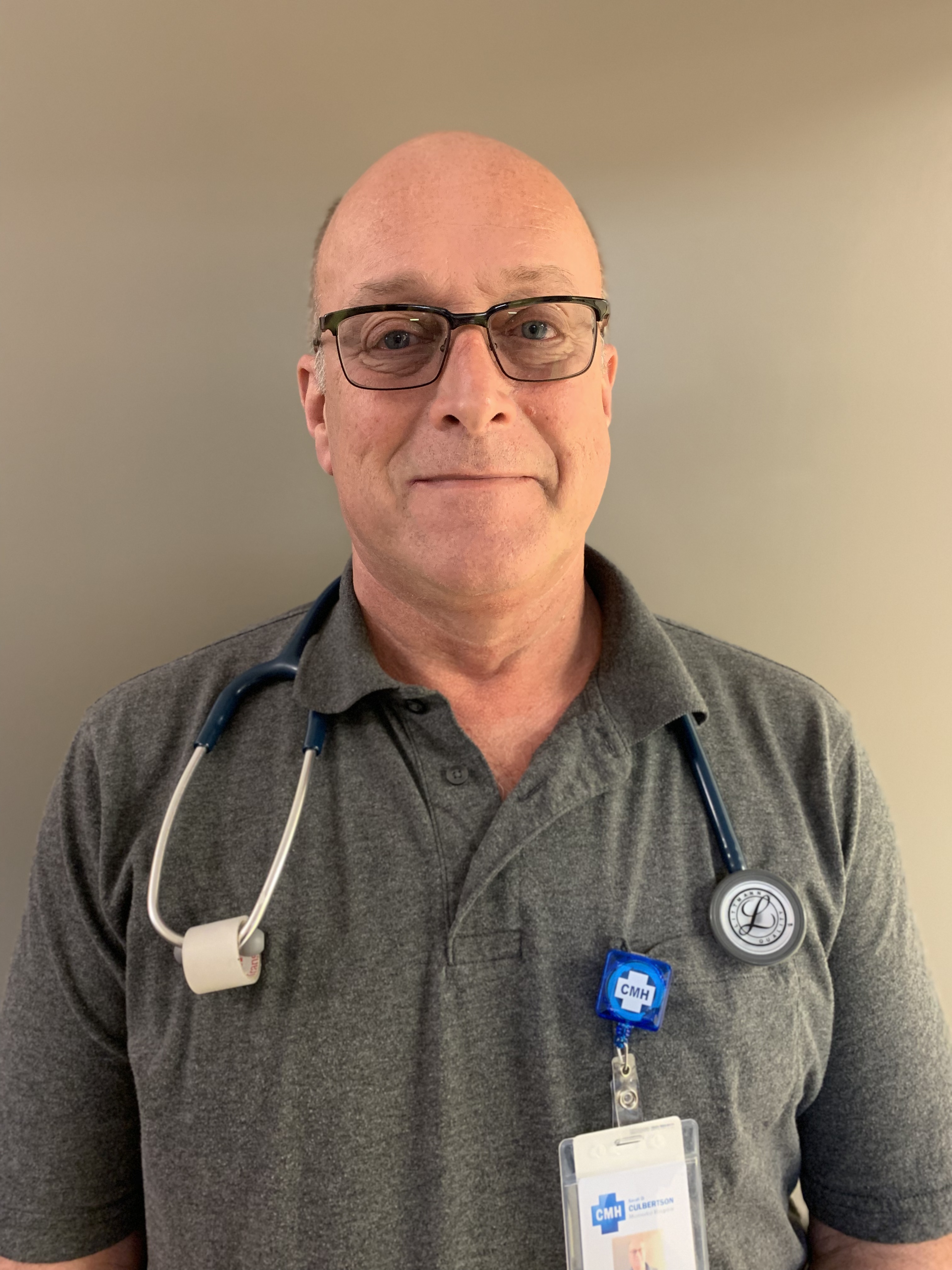 RICK TAYLOR- THE LATE RICK TAYLOR, ER WAS SELECTED AS 2021 EMPLOYEE OF THE FOURTH QUARTER
---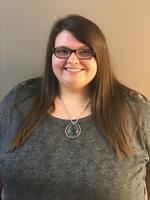 MARIAH CALLIHAN - PATIENT ACCESS AT CULBERTSON CLINICS SELECTED AS 2021 EMPLOYEE OF THE THIRDQUARTER
---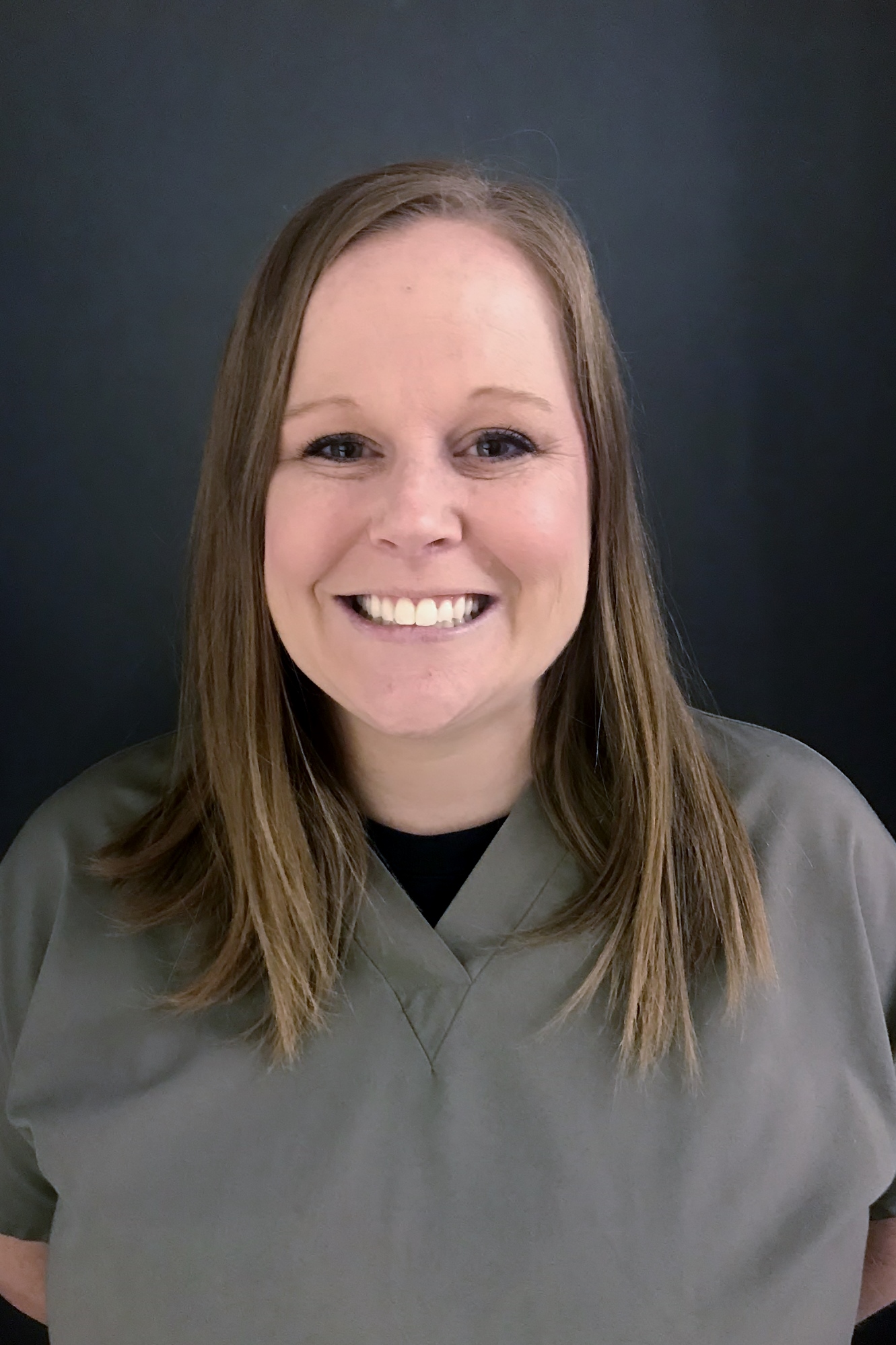 COURTNIE TRONE - LABORATORY SERVICES SELECTED AS 2021 EMPLOYEE OF THE SECOND QUARTER
---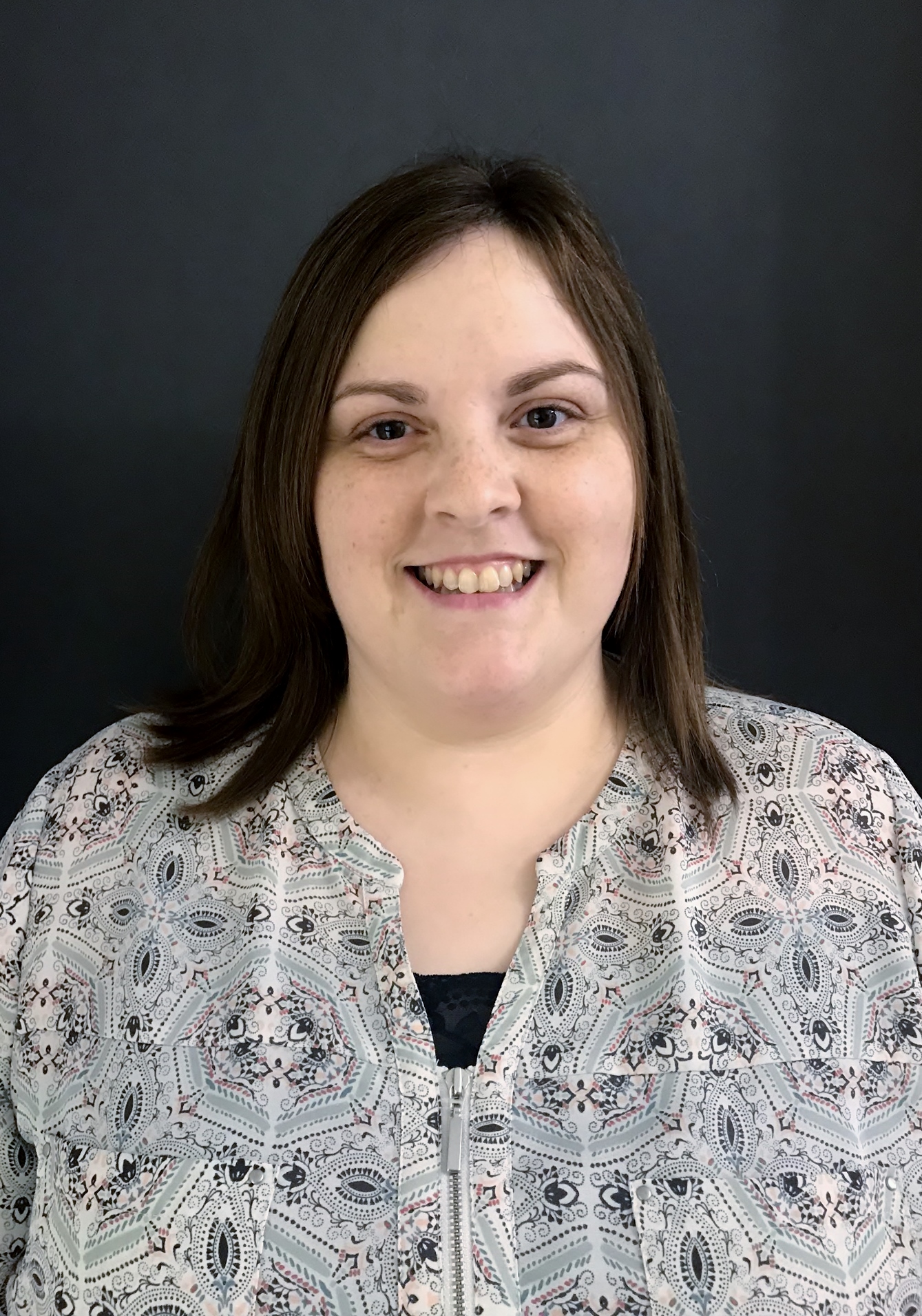 JESSICA HENDRICKS - PATIENT ACCESS SELECTED AS 2020 EMPLOYEE OF THE YEAR
---
Sarah D. Culbertson Memorial Hospital Board Approves Master Facility Plan and Authorization to move forward with Phase I, $5.5 Million Dollar Renovation of the hospital's West Wing.
The Sarah D. Culbertson Memorial Hospital Board of Directors voted Friday, November 20 with a 9 to 0 vote to approve a $15.4 million dollar Master Facility Plan to renovate the interior of the hospital and authorized administration to move forward with Phase I of the plan.
"The master facility plan represents a strategic investment in our hospital and our community, said Greg Snyder, Board President. The facility improvements established in this plan allow us to expand services to the community and help ensure the long term viability of Culbertson Memorial Hospital. The plan will be implemented in stages to provide flexibility of design and to maximize financial utilization. In the vastly changing world of healthcare this plan is a tremendous positive for the Rushville and the surrounding communities."
"This investment is about more than simply new facilities. Over the past several months, in our response to the COVID-19 pandemic, we have learned where some of our vulnerabilities lie; and through this project, we can turn our vulnerabilities into opportunities to improve how healthcare is delivered in Schuyler County and the surrounding area," said John E. Kessler, CEO. "This project will significantly improve the way we serve our patients, from how patients access our campus to how our clinicians can deliver care every day. Sarah D. Culbertson Memorial Hospital has been providing healthcare to our region for nearly 100 years, and as we approach our 100th Anniversary in February, this project is the next step in helping us care for you and your family over the next 100 years."
"Phase I was the logical starting place, as the Master Facility Plan showed our Outpatient Specialty Clinics were one of our greatest vulnerabilities. We currently have a lack of space to bring in the additional Specialty Care Providers the community needs," said Kessler. "We will also be able to create negative pressure rooms which are vital to addressing airborne viruses. Additionally, Phase I will be completely funded by monies designated for renovations and pandemic response."
Specific plans include a significant expansion and renovation of the 42-year-old Emergency Department, centrally locating and expanding Laboratory Services, the creation of a Cancer Center, expansion of our Outpatient Specialty Clinics, privatization of our patient rooms and expansion of our Surgical Services.
The renovations will be broken into six phases, and construction is anticipated to begin July of 2021 and be completed in February of 2027. In addition to the phases listed below, the construction project will also help the hospital to become a 100% sprinkled facility for fire safety.
The 100th Anniversary Renovation Project includes:
Phase 1 West Wing Renovation
Five Outpatient Specialty Clinic care areas
Expansion of Cardiac-Rehab Cancer Center with private and semi-private treatment rooms
Dedicated Patient Access Area and Waiting Room
Phase 2 Laboratory Services, Main Entrance and Patient Access
Centrally locates and expands Laboratory Services
Creates a new main entrance to the hospital
Renovates the main waiting room Creates a new Patient Access Area
Phase 3 Emergency Department Expansion
Creates a dedicated Trauma Room that can handle isolation patients
Expands our treatment rooms from four to five
Creates a centrally located nursing station
Gives us the capability of having negative pressure rooms
Phase 4 Imaging Centralization
Allows all testing for Imaging to be completed within the Imaging Department. Currently, Imaging has testing sites located throughout the hospital.
Phase 5 Patient Wing
Renovates nine patient rooms so that each room has their own toilet, sink and shower
Decreases patient beds from 22 to 12 by creating 6 private patient rooms and 3 semi-private patient rooms
Establishes a dedicated staff lounge and staff training area
Phase 6 Surgical Services Expansion
Builds two new Surgical suites and one scope room
Establishes a four bed PACU unit Creates six pre-procedure patient bays
Centrally located nursing desk
"The healthcare needs of our community have changed over the last decade, as more and more services have been pushed to the outpatient environment. While we are decreasing the total inpatient beds to 12, we feel the other changes we are making are truly what this community needs from us going forward. We also believe that by decreasing our number of beds we have the opportunity to upgrade our Med-Surg patient rooms to allow for Private and Semi-Private patient rooms," said Kessler. "These new patient rooms will be consistent with the accommodations you see in newer hospitals today and will be much more comfortable and create a healing environment for our patients."
---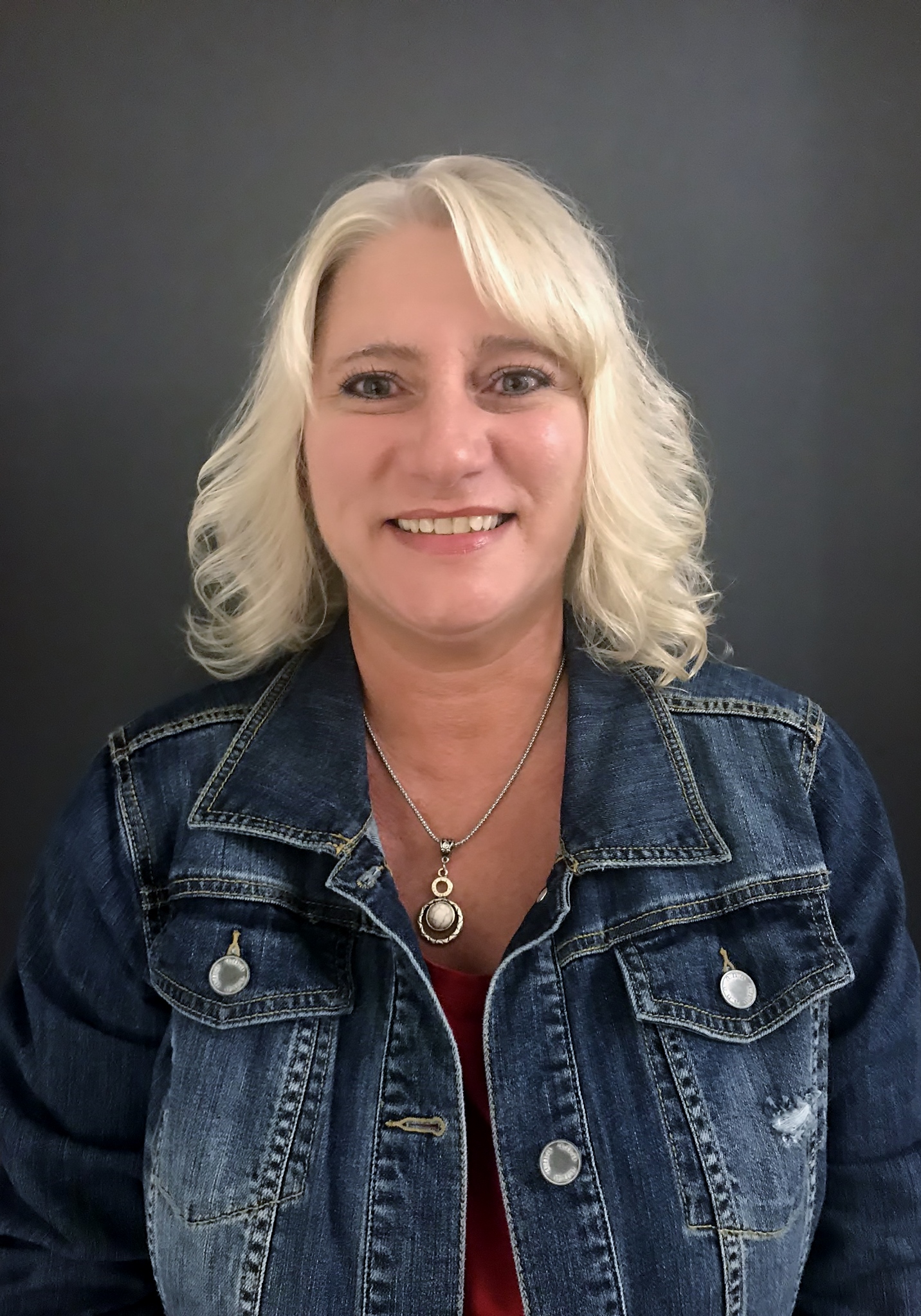 EMPLOYEE OF THE 4th QUARTER
Bridget Hamm, Administrative Assistant has been selected at Culbertson Memorial Hospital's Employee of the 4th.
---
Rushville FAmily Practice Welcomes Dr. Isidoros Vardaros
Dr. Isidoros Vardaros will begin seeing patients ages 21 and up on Tuesday, October 6 at Rushville Family Practice located at 233 South Congress Street in Rushville. Dr. Vardaros is a Primary Care physician who will see patients on Tuesdays and Wednesdays from 8am until 4pm.
---
Employee of the 3rd Quarter
Jessica Hendricks, Patient Access Coordinator has been selected at Culbertson Memorial Hospital's Employee of the 3rd Quarter.
---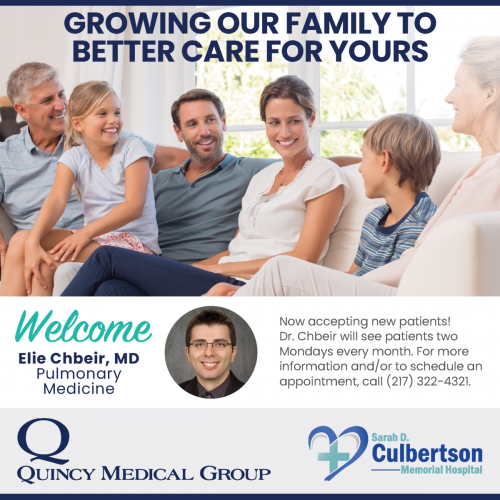 ---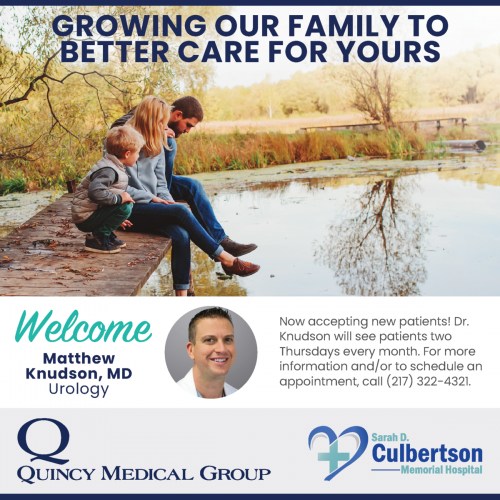 ---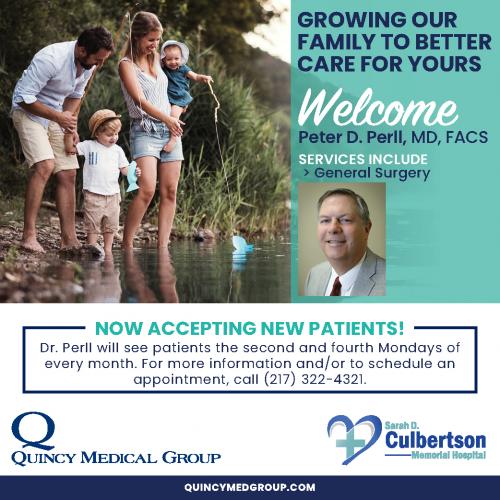 ---
Employee of the Second Quarter
Karen Huffman, Imaging is Culbertson Memorial Hospital's Employee of the Second Quarter.
---
COVID-19 Hotline
If you have questions concerning COVID-19, otherwise known as the Coronavirus, please contact the Illinois Department of Public Health Hotline at 1-800-889-3931. They can also be reached by emailing DPH.SICK@ILLINOIS.GOV.

We can not emphasize enough, how important handwashing is in defense of not only the Coronavirus, but Influenza and many other contagious illnesses. If you are not feeling well, please do not expose others by going out in public. If you have respiratory symptoms and are concerned that you may have been exposed to the Coronavirus, or have traveled outside of the United States in the past 14 days, please contact your local Health Department or call the IDPH hotline above.


---
ENVIRONMENTAL SERVICE
Culbertson Memorial Hospital Enters Into Agreement with HHS for Environmental Service
At the Sarah D. Culbertson Memorial Hospital Board of Directors meeting on Thursday, February 27, 2020, the Board of Directors voted to enter an agreement with HHS for Environmental Services (Housekeeping).
"Our current Housekeeping Director is leaving, and we have been looking for her replacement since December. Unfortunately, we have not had an applicant we feel had the experience to lead the department," said John E. Kessler, CEO. "This juncture gave us the opportunity to partner with an organization that can bring resources and expertise than an organization our size often cannot afford on our own."
For over 40 years HHS has been successful at serving their customers' needs and developing forward-thinking solutions. With more than 500 partner organizations both domestically and internationally, HHS has built a highly focused team of operational experts who are specialized in their specific service area. Their environmental services experience, and detailed cleaning processes, will allow Sarah D. Culbertson Memorial Hospital to exceed CDC standards while reducing the risk of healthcare-associated infections and cultivating a hygienic, healing environment. As our partner, they will work seamlessly to become a part of our team for increased efficiency and ultimately, better cleanliness outcomes.
"We were seeking an environmental services partner who could quickly integrate themselves into our operations," said Gregg Snyder, Board Chairman. "We have a tremendous commitment to excellent patient care and the thoroughness of our Housekeeping Department is a critical piece of that. With HHS, we know we're in extremely capable hands."
"We anticipate transitioning over to HHS in the next 30 to 60 days. All of our current housekeeping employees will be given the opportunity to continue working at Sarah D. Culbertson Memorial Hospital and Culbertson Clinics," said Kessler.
Culbertson Memorial Hospital is not looking to contract with HHS for any other services.



---

Neurology Services Now Available

Sarah D. Culbertson Memorial Hospital is pleased to welcome Dr. Daniel Kimple, Neurology to our Outpatient Specialty Clinics. Dr. Kimple will begin seeing patients on February 18, 2020 and will be at Culbertson the 3rd Tuesday of every month.


---

Dr. Jason Rakita Announces His Departure
At the January 23, 2020 Sarah D. Culbertson Memorial Hospital Board of Directors meeting, John E. Kessler, CEO announced Dr. Jason Rakita will be leaving Rushville Family Practice to pursue a fellowship in Sleep Medicine. "We appreciate the years of service Dr. Rakita has provided to Culbertson Memorial Hospital and his patients at Rushville Family Practice. While we hate to see him go, we wish Dr. Rakita nothing but the best in his future endeavors" stated Kessler.
After providing three and a half years of service to our patients, Dr. Rakita will be moving to New Hampshire where he will begin his Fellowship in Sleep Medicine at Dartmouth-Hitchcock Medical Center. It was a difficult decision for Dr. Rakita to leave his practice in Rushville and he wants his patients to know "I will greatly miss this community and all of my patients."
Dr. Rakita will continue seeing his current patients at Rushville Family Practice through the month of June.



---
Board of Directors Vote To Accept Culbertson Gardens Bid
After evaluating all options, the Sarah D. Culbertson Memorial Hospital Board of Directors voted to accept a bid from Tim and Shiela Ward in the amount of $141,500 for the purchase of Culbertson Gardens.
"It was an extremely difficult decision for us to make, as we wanted not only what was best for the hospital financially, but for our current residents and this community," said Board Chairman Gregg Snyder. "We appreciate that Tim and Shiela Ward see the value in keeping this facility open for our community."
The hospital takes a financial hit every year from Medicare on the cost report for operating the Gardens and it has made a major impact on the hospital's finances. While having Critical Access Hospital (CAH) status has helped the hospital remain financially solvent, the federal government's method of paying for Medicare services causes Culbertson to lose over a hundred thousand dollars annually by operating Culbertson Gardens. Ultimately, the Board of Directors made the decision that their primary mission is to operate a hospital, and that they must do whatever is necessary to keep the hospital financially viable in the years to come.
Legal requirements stated that Culbertson Gardens must be sold through a sealed bid process. The sale of Culbertson Gardens was put out for sealed bid in November and was advertised not only locally, but throughout the state of Illinois and with a Senior Living brokerage firm.
"While we would have liked to have seen more bids, we are grateful to have received a bid from someone with vested interest in this community. If we didn't accept the bid from Tim and Shiela Ward, we would be forced to start the bidding process over again and we didn't feel that would be in the best interest of the hospital or the Culbertson Gardens residents," stated John Kessler, CEO. "Tim and Shiela have a passion for working with senior citizens and many Culbertson Gardens residents had expressed to me and the Board their support for the Wards. We feel accepting this bid will continue a much needed service for this community for many years to come"



---

Temporary Visitor Restrictions
Due to the increased incidence of influenza-like illness, Culbertson Memorial Hospital is implementing temporary visitor restrictions.
No visitation by persons less than 18 years of age

Limit the number of visitors to two per patient at any one time

Request that visitors with acute respiratory symptoms not visit until symptoms have cleared.

If there is a need to visit a patient, a mask must be worn while inside the hospital

Limit visits to patients in isolation for influenza to person who necessary for the patients emotional well-being and care.

All visitors should use good hand hygiene and respiratory/cough etiquette during the visit

Hand Sanitizer and Cough Etiquette stations are located at each entrance

Hand sanitizer should be used upon entering a patient's room and when leaving.
The visiting restrictions are in compliance with the recommendations from the Illinois Department of Public Health (IDPH)



---


Employee of the Year
Nicole Franklin, Dietary Services was chosen by her peers as the 2019 Employee of the Year for Culbertson Memorial Hospital. Nicole has worked at the hospital for over 16 years and is known for being a dedicated and hard-worker, fun, friendly, and knowledgeable in her field of work.


---
For more information on any of the press releases above, please contact Molly Sorrell, Director of Community Relations and Marketing at 217/322-5269 or msorrell@sdcmh.org.